Watch Command Log Reporting Period:
6 a.m. Friday, April 11, 2014 – 6 a.m. Saturday, April 12, 2014
SALT LAKE CITY — Each day Salt Lake City Police Department receives hundreds of calls for service, not all of which result in a report or arrest. Compiled by Watch Commanders in the field, the Watch Log is a summary of events they felt stood out in the last 24-hour period. Items contained herein are based on information available at the time of its release and should not be interpreted as an admission or finding of guilt. Arrest information may differ from formal charges filed by the prosecuting agency. To see a list of completed calls for service in the last 48 hours, please visit slcpd.com/policecallsforservice.
2:00 p.m.
Fatal Traffic Accident
1300 E. Yale Ave.
14-58253
A fatal injury vehicle/pedestrian collision occurred on 1300 East at its intersection with Yale Avenue. Witness statements and evidence at the scene indicated Juan Carlos Zuniga, 14, was riding a "long-board" skateboard westbound on Yale Avenue on the right half of the roadway. Traveling at a high rate of speed, Zuniga was unable to stop before entering/crossing 1300 East and colliding with the passenger side of a northbound pick-up truck. Responding medical personnel pronounced Zuniga dead at the scene. Accident Investigators responded and took charge of the investigation and have determined that neither drugs/alcohol, speed nor other distractions are suspected on the part of the driver of the pick-up. Yale Avenue is regulated by a stop sign and there is an available High Intensity Activated Crosswalk on the south side of the intersection. The crosswalk was checked and determined to be functioning properly; however, due to the pedestrian being in the roadway and not on the sidewalk/crosswalk, it was not triggered.
4:06 a.m.
Stabbing
1966 S. 200 E.
14-58721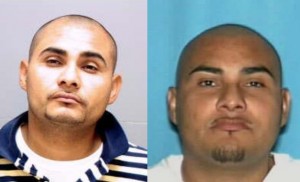 Photos of stabbing suspect Jose Gonzalez (SLCPD).
A man got into a verbal argument with Jose Gonzalez at the above address. The suspect pulled out a knife during the argument. The victim tried to run away but tripped and fell. The suspect allegedly stabbed the victim in the abdomen. The two men were with their girlfriends who also are sisters. The suspect and his girlfriend fled eastbound through the parking lot. The victim and his girlfriend called for help. He was transported to a local hospital in critical condition. As of this writing, the suspect has not been located.
The Police Department asks anyone with information about this or other criminal activity to call (801) 799-3000. Anonymous tips may be sent by texting the keyword TIPSLCPD plus any relevant information to 274637. Reference: crimetip.
 ###