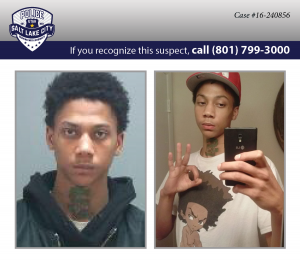 Watch Command Log Reporting Period:
6 a.m. Tuesday, December 27, 2016 – 6 a.m. Wednesday, December 28, 2016
SALT LAKE CITY — The Salt Lake City Police Department receives hundreds of calls for service each day. Not all calls result in a report or arrest. Compiled by Watch Commanders in the field, the Watch Log is a summary of events that stand out to them in a given 24-hour period. Call times listed are approximate and typically reflect the first call received by SLC911 (Dispatch) for a given case. Items contained herein are based on information available at the time of its release and should not be interpreted as an admission or finding of guilt. Arrest information may differ from formal charges filed by the prosecuting agency. To see a list of completed calls for service in the last 48 hours, visit slcpd.com/policecallsforservice.
11:03 a.m.
Homicide
291 E. Browning Ave.
16-240856
Two males met up with a man and his girlfriend outside of the city to purchase an item being sold online. The two men said they needed to get money from a location inside the city and were allowed to travel inside the man's car. The four traveled together into the city where the two males then attempted to rob the victim. A struggle ensued over a handgun the suspect produced. The victim later identified as Sebastian Salgado, 19, was shot during the struggle over the gun. Police responded and found Salgado deceased at the scene. The suspects fled the area on foot. Romeo Alyss Alvarez, 18, was identified after leaving his wallet behind in the vehicle. He was taken into custody later that night. The second suspect has been identified as Anthony Glen Taylor (pictured above), 18. He is still outstanding.
To share information about this or other criminal activity with the Salt Lake City Police Department, please call (801) 799-3000. To remain anonymous, text us your crime tips to 274637. Start the text with the keyword TIPSLCPD (which routes it to SLCPD), then a space, followed by the relevant information or photos. Reference: crimetip
###