SLCPD to Award Scholarships, Prizes in Student Art Contest Friday Night
May 17, 2012
East, West High Students Take Top Honors in SLCPD Student Art Contest
May 18, 2012
May 17, 2012 — The Salt Lake City Police Department tonight held its 32nd annual Police Gala, awarding honors to officers, civilians and citizens for extraordinary acts of bravery or compassion.
Congratulations to all, and thank you to everyone who made tonight possible.
[slide name="Officer of the Year: Mike Hardin"]
July 8, 1986: Patricia Williams, 20, was reported missing in Utah. Five days later her body was found at 700 N. Bonneville Drive — her killer had strangled her and tossed her on the roadside like a piece of trash.
Initial detectives worked the case, but the investigation went nowhere. Leads ran cold. For years, Patricia's mother, Betty Ramirez, called the Department checking on updates, but there were none. The calls started to become fewer and further apart. Betty resigned herself to the fact that her daughter's brutal murder would go unsolved, and her calls stopped.
August 26, 2009: Detective Mike Hardin took on Patricia's case. There was no "magic DNA" to solve this one. It was going to have to be worked the old-fashioned way — with brains, shoe leather and intestinal fortitude.
July 8, 2011: the 25-year anniversary of Patricia's death, after 85 interviews, 38,000 miles of travel, and 400 pages of written reports, Hardin went to Brooklyn, New York, to meet with Betty. Flowers in hand, he was able to tell her that Thomas Pennington had been charged with homicide for the death of her daughter.
For his tenacity and relentless pursuit of justice for this victim and her family, Chief Chris Burbank awards Officer of the Year to Detective Mike Hardin.
[/slide]
[slide name="Unit of the Year: K9″]
The Salt Lake City Police K9 Unit deployed more than 700 times in 2011. The following is but a small sample of the exemplary work done by this team of seven handlers and public service dogs:
Homicide Detectives requested K9 to look for a missing suicidal person armed with a handgun. Four K9 teams searched a more than 80-square-block area in a five-hour period. Sgt. John "Eddie" Cameron and K9 Apollo located the subject, dead from a self-inflicted gunshot wound, a mile from his last known location. Without K9's efforts, it is likely he would not have been found as quickly.
Gang detectives stopped suspects they believed to have discarded a gun just prior to the stop. Officer Mike Serio and K9 Junior checked the adjacent yard where Junior located a handgun that had apparently been tossed into the bushes by the suspects.
Officers responded to a report of a man who had broken into a residence, then fled from the owners and broke into another residence. Officer Nickolas Pearce deployed K9 Otto to search the second residence after the owner verified the suspect was the only one inside. After issuing challenges at the door, Officer Pearce sent Otto inside to search. He located the suspect sitting in a room, trying to hold the door shut. The door was forced open by officers, yet the suspect still refused to come out, so Otto was sent in to apprehend the suspect.
K9 responded to assist patrol with the search for a missing 91-year-old man with Alzheimer's who had walked away from home and was reportedly afraid of police. K9 Apollo located him hiding in some overgrown trees half-a-block from his home.
In addition, the K9 Unit last year attended two K9 trials/competitions, including the Utah Peace Officer Association K9 Trial and the Las Vegas Metro K9 Trial. The unit won 1st Place Top Agency at both trials, as well as several individual awards.
The reputation of the K9 Unit goes far beyond the jurisdiction it serves. Other agencies in the valley call on this unit for assistance on a regular basis. For their outstanding service and dedication to professionalism and first-class training, Chief Chris Burbank awards Unit of the Year to the K9 Unit.
Sergeant John "Eddie" Cameron, K9 Apollo
Officer Randy Hunnewell, K9 Moe
Officer Cale Lennberg, K9 Thago
Officer Mike Serio, K9 Junior
Officer Russell Peterson, K9 Tex
Officer Tyler Lowe, K9 Chase
Officer Nicholas Pearce, K9 Otto
[/slide]
[slide name="Civilian of the Year: Wendy Isom"]
Wendy Isom has single-handedly become the strongest supporter of the Salt Lake City Police Department's Intern Program for young volunteers. She consistently uses interns on her squad, supporting the Chief, the Department and the community by incorporating them into her Victim Advocates Program, getting them into the community and helping people.
The interns are typically young, energetic, mostly university students in criminal science programs or related fields. Isom inspires them as they work together to analyze real-world domestic violence incidents and counsel victims by providing helpful resources, rechanneling depression, minimizing anxiety and fear, and helping them get their lives back in order.
Isom also has created useful administrative documents for the Intern Program. She composed an Intern Evaluation Form and an Intern Feedback form, both of which have improved and streamlined the department-wide Intern Program and generally contributed to making the program even more successful.
Finally, Isom initiated a co-intern program whereby the Police Department provides interns from our waiting list to the City Prosecutor's Office. Prospective Interns are now able to complete their college study requirements without having to wait for available positions.
For her great work as a mentor, supervisor, role model and inspiration to young Interns, Chief Chris Burbank awards Civilian of the Year to Wendy Isom.
[/slide]
[slide name="Humanitarian of the Year: Bill Rutherford"]
Bill Rutherford is the Urban Forester for Salt Lake City. In this role, Rutherford is charged with stewardship, renewal and protection of the City's urban forest. But it's more than a job—it's a passion. He works tirelessly to connect residents to their urban landscape, which includes more than 100,000 trees on city property.
While considering how to engage the public for Earth Day 2012, Rutherford decided to honor the service of men and women who dedicate their professional lives to helping others. More than that, he wanted to inspire everyone to reflect upon gratitude. The result was The Grove of Gratitude at Riverside Park, 739 N. 1400 W., last month.
Starting Monday, April 23, volunteers joined with City Parks and local police officers and firefighters to plant the 150 trees whose location he designed to mimic the Jordan River as it used to flow through the park. As the trees grow, their strong branches reaching for the sky and their canopies providing shade and a comfortable place to sit and reflect in the coming years, Rutherford hopes people will reflect on the sacrifices of first responders. In the center of the grove, he placed a crossing to symbolize those police officers and firefighter who have made the ultimate sacrifice in the line of duty and service to the community.
According to an old Chinese proverb: one generation plants the trees, another gets the shade. So, too, do first responders know they perform their duty today for the peace and tranquility of tomorrow.
For his vision and leadership in creating The Grove of Gratitude, which will bring the community and first responders together for decades to come, Chief Chris Burbank awards Humanitarian of the Year to Bill Rutherford.
[/slide]
[slide name="Police Star: Detectives Troy Anderson, Jeremy Sayes and Alma Sweeny"]
July 26, 2011: West Valley City Police were engaged in an extensive manhunt that turned into a vehicle pursuit and shootout with a serial robbery suspect. Salt Lake City Safe Streets Detectives Troy Anderson, Jeremy Sayes and Alma Sweeny arrived at the termination point of the pursuit and shooting just as it concluded and performed the following actions:
Anderson gave up his uniform shirt to be used as a tourniquet for an injured West Valley officer.
Sayes and Sweeny applied tourniquets to another West Valley officer who had been shot through both legs.
All three continued to conduct follow-up activities for West Valley City Police throughout the rest of the evening.
For their display of courage and selfless acts of service toward officers wounded in the line of duty, the Salt Lake City Police Department awards the Police Star to Detectives Troy Anderson, Jeremy Sayes and Alma Sweeny.
[/slide]
[slide name="Police Star: Detective Ron Bruno and Officer David Hendricks"]
January 25, 2012: a man took over the Rite Aid Pharmacy at 150 N. 900 W. by threatening employees with an incendiary device. He wanted to commit suicide by ingesting medications stored in the pharmacy and threatened to blow up anyone who tried to stop him.
After evacuating employees and securing a perimeter with another officer, Officer Dave Hendricks assumed a position just outside the pharmacy window. He armed himself with a fire extinguisher and began to build a rapport with the man.
Detective Ron Bruno arrived soon afterward and assisted Hendricks by taking over the fire extinguisher and advising him throughout negotiations. Both Hendricks and Bruno talked the man through several bouts of anger and threatening behavior not knowing the capabilities or dangers of the device he possessed.
Although negotiations proved lengthy and were complicated by the effects of the medications the man had taken, Hendricks and Bruno's efforts led him to surrender. They risked personal injury by placing themselves in a position to convince the man not to commit suicide and to render immediate aid if his explosive device were to be deployed or if medications incapacitated him.
For their efforts to defuse a potentially deadly situation with an individual experiencing a mental health crisis, the Salt Lake City Police Department awards the Police Star to Officer David Hendricks and Detective Ron Bruno.
[/slide]
[slide name="Police Star: Officers Mike Evans and Ron Walker"]
At approximately 4:35 a.m. December 6, 2011, a 22-year-old woman called a suicide hotline in Florida and said she was going to jump off a building in downtown Salt Lake City. Officer Mike Evans was able to locate her based upon his knowledge of downtown buildings and reasoning as to which one she may have chosen. When he found her, she was standing on the top ledge of the Wells Fargo parking structure. Evans approached and was able to talk to her; Officer Ron Walker arrived to assist.
Evans was able to build a rapport with her and Walker provided the necessary distraction to enable him to get closer — all while the woman alternated between ingesting pills and cough syrup and looking toward the street below. Evans was able to get within a few feet of her when she turned to check on Walker. Putting himself at risk, Evans wrapped his arms around the girl, pulling her from the ledge. Still, she kept struggling and trying to break away from the officers to get back to the ledge, requiring the efforts of both to restrain her.
For their patience and courage in dealing with an individual experiencing a mental health crisis, the Salt Lake City Police Department awards the Police Star to Officer Mike Evans and Officer Ron Walker.
[/slide]
[slide name="Distinguished Service Medal: Dispatcher Robbie Kirk"]
September 6, 2011: Dispatcher Robbie Kirk took a call from a 19-year-old girl who was home alone one afternoon. The young woman heard a knock at the back door, after which the would-be guest entered the house without permission.
Kirk gathered a very detailed description of the suspect and his activities from the victim. She was able to relay details to responding officers so they were informed of the suspect's whereabouts, including the direction of travel when he left the scene on a bicycle.
After the suspect left, Kirk stayed on the line with the victim until officers arrived. Her calm manner provided comfort to a victim experiencing a very traumatic and terrifying situation. The potentially tragic outcomes of this call were endless, but, due to Kirk's efforts, a suspect was apprehended and taken to jail and the victim's property was recovered.
For her professionalism, calm demeanor and compassion in the performance of her duties, the Salt Lake City Police Department awards the Distinguished Service Medal to Dispatcher Robbie Kirk.
[/slide]
[slide name="Distinguished Service Medal: Officer Mike Coles"]
An unknown subject robbed the Zions Bank branch at 1430 S. 300 W., Salt Lake City, on September 16, 2011. Images captured from the bank's video surveillance system were released to Patrol along with information regarding the robbery.
The next day Officer Mike Coles recognized the suspect walking on North Temple. He stopped the man, obtained photographs, particularly of his clothing, and fingerprints.  Based on the identification information gathered during the stop, the District Attorney issued a $100,000 warrant for the arrest of the suspect.
After learning about the warrant, Coles took it upon himself to make fliers of the suspect and distribute them to business owners in the North Temple area. Shortly thereafter, one of the business owners in the area recognized the suspect and called police. Coles responded and took him into custody.
Officer Coles' work demonstrated concern for and ownership of the community he patrols. His initiative in solving this case and apprehending the suspect represents the best qualities of a skilled patrol officer, for which the Salt Lake City Police Department awards him the Distinguished Service Medal.
[/slide]
[slide name="Meritorious Service Medal: Detective Cody Lougy and Records Specialist Amberly Crowford"]
In 1964 a teenage boy by the name of Reed Jeppson went missing while walking his dogs on a Sunday afternoon.  After a procedural investigation, the case was closed as a runaway juvenile and work ceased for 46 years — until Detective Cody Lougy was assigned the case in 2010.
After the Police Department held a press conference to seek new leads, Lougy received information from a citizen who had purchased the house next to Reed Jeppson's home.  This led to a conversation with the current occupants of the home.  The new homeowner, in the course of landscaping the back yard, found what appeared to be the surgically dismembered bodies of two dogs buried in multiple bags.
Lougy brought cadaver dogs and other specialized equipment to the home to see if he could locate Jeppson's body.  Although not able to do so, Lougy is still working the case and following other promising leads.
To develop other avenues of investigation, Lougy recruited the help of records specialist Amberly Crowford, who spent hours researching past cases involving the home's previous occupant in an effort to cast a wide net on potentially valuable information.
In addition to this case, Lougy and Crowford, within the last few months, have identified two bodies from missing person cases that are each more than a decade old.  He was able to locate next-of-kin for one, providing that family with the closure they have craved for years.
For their dedication to justice for victims no longer able to speak for themselves, the Salt Lake City Police Department awards the Meritorious Service Medal to Detective Cody Lougy and Amberly Crowford.
[/slide]
[slide name="Meritorious Service Medal: Detective Aaron Johnson and DEA Special Agent Robert Marsee"]
Detective Aaron Johnson and Drug Enforcement Administration Special Agent Robert Marsee initiated an investigation into the Cuenca methamphetamine distribution organization in early February 2012. Their work revealed that a multiple-pound, methamphetamine trafficker was conducting an ongoing narcotics distribution operation in Salt Lake City and Murray. Through steadfast investigation, Johnson and Marsee were able to identify the source of supply in Salt Lake City. Detective Johnson secured state search warrants for the suspects' residences, including the source of supply.
March 21, 2012: search warrants were served by members of the Department's SWAT team and Narcotics Unit and the DEA Metro Narcotics Task Force. They seized more than 6.5 pounds of methamphetamine, 1.5 pounds of marijuana, $16,000 cash, a handgun and a vehicle, as well as booked two suspects on federal narcotics violations.
One of the arrested persons was identified as a drug trafficker with a prior conviction and an aggravated re-entry suspect. One other suspect had state felony drug and endangerment charges screened against her for her involvement in the criminal activities in the presence of six minor children.
The culmination of this case effectively disrupted a major methamphetamine trafficking and distribution operation within Salt Lake City and Murray. It also allowed Child Protective Services workers to conduct assessment and investigation of criminal activity that was endangering the children involved.
Detective Aaron Johnson and Agent Robert Marsee's actions reflect great credit upon themselves, their character and their deep commitment to the citizens of Salt Lake, Murray and the state of Utah, for which the Salt Lake City Police Department awards them the Meritorious Service Medal.
[/slide]
[slide name="Meritorious Service Medal: Officer Brent Larsen"]
December 15, 2011: Officer Brent Larsen was enforcing speed limits in a school zone at the intersection of 2700 South and 700 East. A dispatcher notified him of a woman giving birth in the nearby Maverik parking lot and asked if he would assist in the imminent delivery; the father was frantic with the prospect of delivering the couple's first baby. Officer Larsen told the father to hold the baby's head while he would help with the rest of the child's body. The delivery was a success, although the newborn was not happy about the cold world she had just entered. Officer Larsen applied a zip tie to her umbilical cord and provided a clean sheet and towel from his trunk in which to wrap her.
For calming and reassuring frantic new parents in a very frightening situation, the Salt Lake City Police Department awards the Meritorious Service Medal to Officer Brent Larsen.
[/slide]
[slide name="Meritorious Service Medal: RaeLene Felkner"]
RaeLene Felkner, Patrol Senior Secretary, has long volunteered her time in support of Shriners' causes. Her initiative led to a special Shriners clinic held at Pioneer Precinct on June 25, 2011. She coordinated with medical personnel for screening services, police officers who attended and interacted with the children, Shriners who helped publicize the clinic, and so much more. The goal was to identify that small, hidden population of children who might benefit from the orthopaedic and neuromusculoskeletal care offered by Shriners Hospitals for Children here in Salt Lake City. As a result, the hospital will offer free life-changing medical care to several children.
For living the core value of service to the community, the Salt Lake City Police Department awards the Meritorious Service Medal to Raelene Felkner.
[/slide]
[slide name="Meritorious Service Medal: Officer Vicki Aubrey"]
As part of a temporary duty assignment with the Salt Lake Information Center (SLIC), Officer Vicki Aubrey received training on all the programs and data sources at the SLIC's disposal. Subsequently, Aubrey assumed the daunting task of establishing a database of wanted persons to collate details from multiple programs and gather the most comprehensive data on individuals wanted by the criminal justice system.
Aubrey returned to patrol in spring of 2011 and put the database to good use. Within a short period of time, she racked up a significant number of arrests that have yet to be matched, including the following:
 May 2011: an aggravated child sexual abuse suspect who had been on the run for two years.
July 2011: a rape suspect.
September 2011: a bank robber as he walked out of the Public Safety Building.
October 2011: a wanted person in the Central City area, who, in turn, gave Aubrey information about a marijuana grow. As a result, she wrote, planned and executed a warrant that resulted in a number of seized plants and the arrest of the responsible party.
November 2011: a homicide suspect and parole violator.
For her diligence and initiative in combining old-school street work with new technology, the Salt Lake City Police Department awards the Meritorious Service Medal to Officer Vicki Aubrey.
[/slide]
[slide name="Distinguished Unit Citation: Multiple Officers"]
Two rapes in the southeast part of the city were reported Sunday and Monday, August 14–15, 2011. In both incidents the victims were violently raped by the suspect while being held at knife point.
A department review has identified the following individuals and actions as critical to the apprehension of the suspect:
Reports by Officer Brent Dangerfield and Officer Michael Ruff did an excellent job of documenting the crimes, identifying evidence and providing leads for detectives.
Officer Daniel Carlson's actions led to a photograph of the suspect at an ATM where he had forced one victim to withdraw cash.
Tuesday morning, August 16, Lt. Craig Gleason alerted detectives in the Special Victims Unit that the two cases had significant similarities and that he believed a serial rapist was emerging in the area. Gleason expressed a need for urgency and began to develop a plan of action to apprehend the suspect, a plan which detectives immediately implemented.
Armed with photographs, a detailed description and a suspected method of operation, Fusion Bike Sgt. Derek Christensen observed and apprehended the suspect later the same day, collecting important evidence of the crimes in the process.
Upon capture the suspect exhibited no remorse in his comments and expressed his intent to continue if he had not been apprehended. Detectives charged the suspect with multiple felony crimes, including aggravated rape, aggravated robbery and aggravated kidnapping.
For their excellent teamwork in the face of an emerging threat to public safety, the Salt Lake City Police Department awards the Distinguished Unit Citation to:
Lieutenant Craig Gleason
Sergeant Derek Christensen
Officer Brent Dangerfield
Officer Michael Ruff
Officer Daniel Carlson
[/slide]
[slide name="Meritorious Unit Citation: Downtown Bikes"]
Downtown Bikes is comprised of two squads that focus on directed enforcement. Last year, they were asked to establish proactive patrol tactics in the downtown area and to work closely with business owners and citizens to reduce calls for service. This effort included some of the busiest areas in the Capital City, including Main Street, the City Library plaza and the Rio Grande area.
When starting his new assignment, Sergeant Jeff Webb established a baseline of activity by compiling a list of all calls for service from September through December 2010. He then determined which addresses generated the highest number of calls for service and assigned the top eight sites to specific officers.
Sgt. Webb and Sgt. Jennifer Diederich then advised all officers to make regular contact with businesses and citizens around the top call-producing sites with directions to be proactive in solving problems. A year-over-year comparison of data speaks to the unit's success: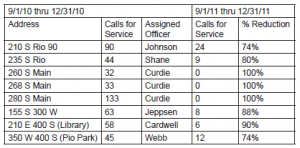 The outstanding proactive police work illustrated above was so successful that all bike officers now use the same model to cut the number of calls for service in their assigned areas.
During the past year, the downtown bikes also have been assigned the task of carrying the torch for the Homeless Outreach Services Team (HOST) program, an effective way to positively affect panhandling in the downtown area. Bike officers have made more than 380 HOST contacts, attempting to provide services to panhandlers, and contacted every business in the downtown area about the program. HOST is now being instituted around the downtown City Library and in the Sugar House area to help deal with panhandling issues there.
For their hard work and dedication to improving the quality of life for all within their areas of responsibilities, the Salt Lake City Police Department awards the Meritorious Unit Citation to Downtown Bikes.
Sergeant Jeff Webb, Fusion Division/Dayshift Bikes
Sergeant Jenn Diederich, Fusion Division/Afternoon Bikes
Officer Ben Johnson, Fusion Division/Dayshift Bikes
Officer Dax Shane, Fusion Division/Dayshift Bikes
Officer Kris Jeppsen, Fusion Division/Dayshift Bikes
Officer Michael Cardwell, Fusion Division/Dayshift Bikes
Officer Bryce Curdie, Fusion Division/Dayshift Bikes
Officer Ammon Mauga, Fusion Division/Afternoon Bikes
Officer Sam Wolf, Fusion Division/Afternoon Bikes
Officer Ron Walker, Fusion Division/Afternoon Bikes
Officer Doug Steenblik, Fusion Division/Afternoon Bikes
Officer Andrew Cluff, Fusion Division/Afternoon Bikes
Officer Billy Manzanares, Fusion Division/Afternoon Bikes
Officer Adam Nicolaysen, Fusion Division/Afternoon Bikes
Officer Eric Moutsos, Fusion Division/Afternoon Bikes
[/slide]
[slide name="Police Meritorious Service Medal: Detectives Sioeli Joe Folau and Dan Davis"]
A burglary occurred at 1550 E. Kensington Avenue on July 2, 2011, in which a safe containing close to half-a-million dollars in rare coins was taken. Detective Sioeli "Joe" Folau was assigned the case and began to investigate and follow up on all leads.
Four individuals attempted to sell some of the coins to a collectors shop. They admitted to buying the coins from a specific individual, who Detective Dan Davis identified through a subpoena served on eBay that showed listings for coins with serial numbers matching those stolen in this case.
With the assistance of the Burglary Squad, Folau and Davis conducted a search warrant on the new suspect's home and recovered some of the stolen coins. They arrested him and his girlfriend for felony possession of stolen property. Upon interview, the suspect implicated another man on whose place of business Folau and Davis served a search warrant and recovered more of the stolen coins. The detectives then served a search warrant on this suspect's residence, safe house and vehicles, which resulted in the retrieval of more coins, marijuana and marijuana cultivation equipment.
Folau and Davis then executed a search warrant on the last suspect's storage units and located several bags containing even more coins. During this search warrant service, they also found a gun, ammunition, several pounds of marijuana, cultivation equipment, and two suitcases full of chemicals necessary for the manufacture of methamphetamine.
Still pulling at the unraveling strings of this case, Folau and Davis followed the last suspect's vehicle and conducted a felony stop. They booked him on charges of felony possession of stolen property, possession of marijuana with intent to distribute, cultivation equipment, possession of precursors, and possession of a firearm by a restricted person.
After comparing the items recovered with a list of stolen property, it was determined the detectives had been able to find all but $50,000 of the rare coins and other property stolen from the safe. For their excellent work, the Salt Lake City Police Department awards the Meritorious Service Medal to Detectives Sioeli Folau and Dan Davis.
[/slide]
[slide name="Meritorious Unit Citation: Patrol, Afternoon Shift"]
At approximately 6:53 p.m. Tuesday, December 13, 2011, the Salt Lake City Dispatch Office received a call from a suicidal subject who wanted police to know where to find his body. Dispatch was able to confirm with the caller that he had a handgun and had even texted his girlfriend a picture of a bullet.
After Dispatch confirmed the subject's name and his location through a vehicle registration check, officers quickly responded to the area and located the man in a busy parking lot of a business. They observed him sitting in the car's driver seat, armed with a handgun.
Working quickly and efficiently, officers set up a containment area around the subject's vehicle, established traffic control points, formed an Emergency Action Team, and initiated negotiations with the subject.
Sergeant Stefhan Bennett arrived and assumed the negotiator's role. For the next hour and 45 minutes, Bennett talked with the subject, who was despondent over the recent end of a relationship and his father's suicide several years earlier. During this time officers saw the subject ingest pills and drink alcohol in a possible attempt to overdose.
As time went by, the man's cell phone ran out of power so the Emergency Action Team began verbal contact with him from a point of cover. Eventually, the subject opened his door, at which time officers overwhelmed him, secured his weapon and took him into custody.
For their tremendous patience and restraint in dealing with an individual experiencing a mental health crisis, the Salt Lake City Police Department awards the Meritorious Unit Citation to Patrol, Afternoon Shift.
Sergeant Stefhan Bennett
Officer Gordon Swift
Officer Carlie Wiechman
Officer Richelle Bradley
Officer Aaron Buchei
Officer Douglas Steenblik
Officer Bruce Evans
Officer Andrew Leonard
Officer Aaron Broomhead
Officer Nick Schneider
[/slide]
[slide name="Public Service Star: Kyle Robison, Alicia Tucker and Tomas Wagner"]
November 28, 2011: Alicia Tucker was working as store security for Kohl's Department Store when she observed a man hide several watches on his person and exit without paying for the items. Tucker confronted the suspect, who shoved her in the chest and ran from the store.
This assault was witnessed by Kyle Robison, who, along with Tucker, began to chase the suspect. Out of breath, the man produced a knife and threatened Tucker and Robinson.
Tomas Wagner, who saw the original assault and foot chase, had followed the trio in his car. When he saw the knife, Wagner tackled the suspect to the ground and held him until police arrived.
For their bravery in confronting this assailant and preventing him from harming others, the Salt Lake City Police Department awards the Public Service Star to citizens Kyle Robinson, Alicia Tucker and Tomas Wagner.
[/slide]
[slide name="Public Service Star: Craig Anderson"]
Craig Anderson was at Asian Isle restaurant where his girlfriend works. They were behind the register when a man entered the restaurant and demanded money. Intimating that he had a gun in the pocket of his hoodie, the suspect repeatedly said he would shoot them if they did not hand over some money.
Anderson pulled a few dollars out of his pocket and handed it to the robber, who took his own hands out of his pockets to criticize the meager offering. Realizing the man didn't have a gun, Anderson did not hesitate and took the suspect to the ground, holding him there until police arrived. Although escape was futile once officers arrived, the suspect still fought with them. Officers placed the man in handcuffs then booked him into jail for robbery and resisting arrest.
For quick thinking that led to a violent suspect's apprehension, the Salt Lake City Police Department awards the Public Service Star to Craig Anderson.
[/slide]
[slide name="Citizen Service Medal: Maria Noble"]
Maria Noble, a long-time resident of Salt Lake City, spends hours making or refurbishing stuffed animals as a token of comfort for children who witness or are victims of domestic violence. She thoroughly reconditions older toys — cleaning and mending them and attaching child-friendly accessories — and then presents them to the Police Department in pristine condition.  She wraps each one in a bag so they can be stored in patrol cars without worry and retrieved when needed.
True to her name, Noble has performed this act of kindness for the last 10 years.  For her tremendous efforts — in keeping with the finest traditions of the agency and reflecting great credit upon herself, this community and the Department — the Salt Lake City Police Department awards the Citizen Service Medal to Maria Noble.
[/slide]
[slide name="Citizen Service Medal: Colors of Success"]
Colors of Success, a gang prevention and intervention program, is a great asset to the community and law enforcement.  Staffers in the Salt Lake City School District work very closely with the Department's School Resource Officers and the Safe Streets Task Force, which investigates gang crime.
Colors of Success staffers work with students who are in gangs, thinking about joining a gang or struggling with school for a variety of reasons.  They are mentors to these students, teaching them how to function and survive in and out of school.  They have built great relationships and gathered invaluable information from students about crimes at school or in the community, and they have not hesitated to share that information with School Resource Officers.  In fact, they have assisted officers on fights and helped in breaking up and separating combatants on many occasions.
For their invaluable service to at-risk youth and law enforcement, the Salt Lake City Police Department awards the Citizen Service Medal to the Colors of Success team.
Duane Bourdeaux
Leticia Medina
Claudio Torres
Anna Aguirre
Lynn Green
Jimmy Glasker
Fred Peake
Steve Lilly
Redd Sawyer
Kim Caputo
Scott Fields
Karina Villalba
Karen Kelly
[/slide]
Contact: Reporters seeking comment should contact the Public Information Officer at 801.799.NEWS (6397). 
 ###