PR Unit Closed in Observance of Labor Day
August 31, 2012
Chief's Message: Operation Safe Passage
September 4, 2012
Killed in the Line of Duty 77 Years Ago Today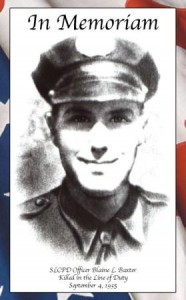 September 4, 2012 — The Salt Lake City Police Department remembers the loss of one its own: Officer Blaine L. Baxter, killed in the line of duty September 4, 1935.
Officer Baxter was killed in a motorcycle accident while enforcing speed limits in Salt Lake City. The 28-year-old officer was conducting routine speed enforcement on 200 West, between 200 and 300 North, when he observed a vehicle traveling south at a high rate of speed. Officer Baxter pursued the violator.
At the intersection of 100 North 200 West, a vehicle turned in front of him. Officer Baxter lost control of his motorcycle while taking evasive action and crashed into the wall of a building. He suffered a broken neck and died at a local hospital.
Officer Baxter was married and the father of two children. He is buried in the Salt Lake City Cemetery.
To learn more about our Fallen Officers, please visit slcpd.com/newsroom/fallen.
###