Arrest Warrant Issued in Winston Homicide
September 13, 2012
SLCPD Seeks Suspect in Robbery of Zions Bank Branch
September 20, 2012
Killed in the Line of Duty 11 years ago today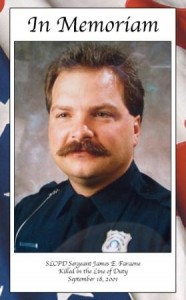 September 18, 2012 — The Salt Lake City Police Department today remembers the loss of one its own: Sergeant James E. Faraone, killed in the line of duty Sept. 18, 2001.
Sergeant Faraone was killed in a traffic crash on Interstate 80. Shortly after 2:30 p.m., the 48-year-old officer encountered a disabled vehicle in the middle of the eastbound lanes at approximately 3800 West. He parked his unmarked police vehicle behind the disabled vehicle and activated his red-and-blue strobe lights.
Sergeant Faraone was seated inside his vehicle when it was struck from behind by a pickup truck traveling at a high rate of speed. Although wearing his seatbelt, the officer died almost instantly due to massive chest trauma.
Buried at Wasatch Lawn Memorial Park, Sergeant Faraone is survived by his wife and two children.
If you have memories or photos of Sergeant Faraone to share, please email policehistory@slcgov.com or call (801) 799-3340. To learn more about our Fallen Officers, please visit: www.slcpd.com/newsroom/fallen.
###