Panelists: Chief Burbank, Temple Grandin, Betsy Burton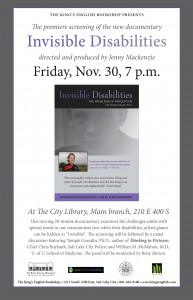 November 29, 2012 — The Salt Lake City Police Department is pleased to participate in Friday's premiere screening and panel discussion of "Invisible Disabilities: The Problems of Perception," a 20-minute documentary that examines the challenges adults with special needs face when their disabilities, at first glance, may be hidden.
"This film is the constructive solution to what started as a negative encounter between police officers and a member of our community," said Chief Chris Burbank. "The Police Department can be proud to have participated in a project that creates a training tool for not only police officers, but anyone who may deal with individuals with hidden disabilities."
The film screening will start at 7 p.m. Friday, November 30, 2012, in the Tessman Auditorium of the main City Library, 210 E. 400 S., Salt Lake City. Following the screening, Betsy Burton will moderate a discussion about the film's subject matter with Temple Grandin, Ph.D., author of "Thinking in Pictures"; Chief Chris Burbank, Salt Lake City Police Department; and William M. McMahon, M.D., University of Utah School of Medicine.
Directed and produced by Jenny Mackenzie, "Invisible Disabilities" was co-produced by Kit and Betsy Burton and The City of Salt Lake, with underwriting support from the Utah Film Center.
Contact: Reporters seeking comment should contact the Public Information Officer at 801.799.NEWS (6397).
###