Public Notice: December Evidence Disposal
December 18, 2012
BOLO: SLCPD Seeks Male with Active Warrant
December 19, 2012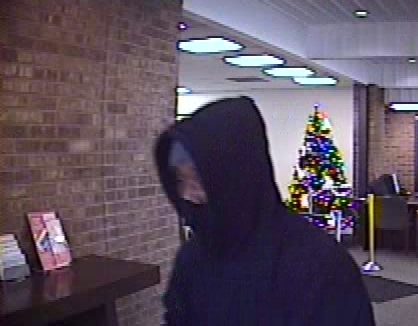 December 18, 2012
For Immediate Release
FBI Salt Lake City Division
Contact:  Debbie Dujanovic Bertram
FBI Public Affairs Specialist
Deborah.bertram@ic.fbi.gov
FBI and the Salt Lake City Police Department request public's help in solving bank robbery
FBI Special Agent in Charge David J. Johnson has authorized an FBI reward of up to $10,000 for information leading to the arrests and convictions of the persons responsible for a bank robbery in Salt Lake City, Utah, that occurred on Monday, December 17, 2012.   At approximately 11:30 am, two masked gunman entered the Zions Bank located at 1420 South and 300 West.  One adult male subject was wearing a dark blue hooded sweatshirt and is approximately 6'-6'2" tall.  The other adult male was wearing a white hooded sweatshirt and is approximately 5'8"-6' tall.
Although no one was injured during the robbery, customers and employees inside the bank had guns pointed at them, and were threatened and ordered to the ground. Also, the bandits placed a package inside the bank, said it was a bomb, and left the scene.  The package, which was wrapped in blue Christmas paper with snowmen printed on it, was not a bomb but rather a box of Mrs. Freshley's Honey Buns.
The FBI continues to work with the Salt Lake City Police Department to solve this case.  Both bank robbers should be considered armed and dangerous.  The public is advised not to approach either of these individuals and asked to call in tips to the FBI at (801) 579-1400 or the Salt Lake City Police Department at (801) 799-3000.
This press release is reposted on behalf of the FBI Salt Lake City Division.
###