SLCPD Releases Surveillance Video in Strong-arm Robbery
January 18, 2013
SLCPD Seeks Suspect in Robbery of US Bank
January 22, 2013
Mestizo Coffeehouse hosts first officer drop-in Jan. 24th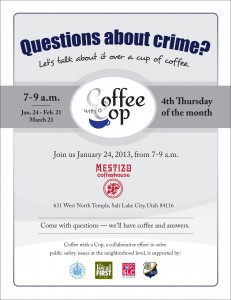 January 18, 2013 — The Salt Lake City Police Department will launch "Coffee with a Cop," a new community outreach effort, at Mestizo Coffeehouse Thursday, January 24, from 7–9 a.m.
"Sharing a cup of coffee is a great way to get to know someone," said Police Chief Chris Burbank, "and we're hoping to hear what public safety issues are top of mind for the public during our 'Coffee with a Cop' stops. The officers on hand will be prepared with information about issues in the area and talk with residents about ways to work together to reduce crime."
Mestizo Coffeehouse, 641 W. North Temple #700, was chosen due to its reputation as a community gathering space. Anyone who visits with an officer will receive a cup of coffee from 7–9 a.m. Thursday.
"Coffee with a Cop" will be held the fourth Thursday of the month at coffee shops around town. Stops in February and March are planned for The Rose Establishment in downtown and Beans & Brews in Central City.
A collaborative effort to solve public safety issues at the neighborhood level, "Coffee with a Cop is supported by Salt Lake City, Local First Utah and the Downtown Alliance.
WHAT:
Coffee with a Cop
WHEN:
Thursday, January 24, 2013
7–9 a.m.
WHERE:
Mestizo Coffeehouse
641 W. North Temple, Suite #700
Salt Lake City, Utah 84116
Contact: Reporters seeking comment should contact the Public Information Officer at 801.799.NEWS (6397).
###