Call 801.799.3000 if you recognize him
Surveillance photo (above) from January 31, 2013, robbery of Key Bank.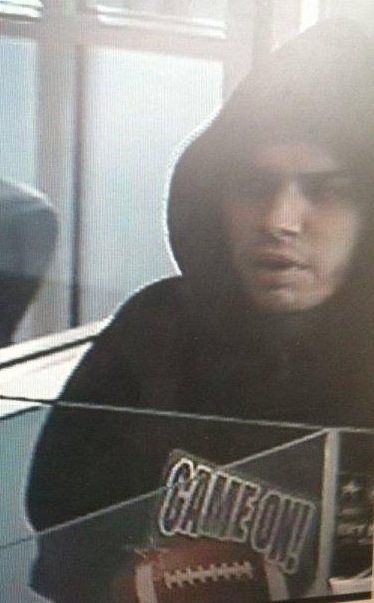 Alternate photo (above) of Key Bank robbery suspect.
January 31, 2013 — The Salt Lake City Police Department seeks the public's help to identify and locate the suspect in the robbery of a Key Bank this afternoon.
At approximately 12:34 p.m. Thursday, January 31, 2013, the Key Bank at 290 S. 1300 E. was robbed. The suspect entered the bank wearing a purple hooded sweatshirt and purple sweat pants. Witnesses said he was wearing face paint (see photos above).
The suspects hand or hands may be burned or stained red due to the effects of a dye pack.
male adult
possibly Hispanic
5 feet 2 inches to 5 feet 6 inches tall
slender build
dark hair
 If you know the whereabouts of the suspect, please call (801) 799-3000. Anonymous tips may be sent by texting TIPSLCPD plus information to CRIMES (274637). Reference: case #13-15741.
 Contact: Reporters seeking comment should contact the Public Information Officer at 801.799.NEWS (6397).
###