UPDATED INFORMATION: SLCPD Seeks Suspect in Restaurant Burglary
February 1, 2013
SLCPD Seeks Suspect in Bank Robbery
February 13, 2013
Killed in the Line of Duty 92 Years Ago Today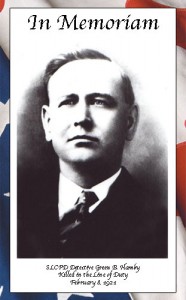 February 8, 2013 — The Salt Lake City Police Department today remembers the loss of one its own: Det. Green B. Hamby, killed in the line of duty February 8, 1921.
Detective Hamby died after being shot by a burglary suspect.
Acting on information obtained from three men arrested for an assault on a police officer, Hamby and other officers went to the Nord Hotel, 59 E. 200 South. While attempting to gain access to a room where the men had been staying, the detective was shot in the head by a fourth suspect hiding inside. The suspect was killed by return fire from the other officers.
Hamby, 49, was married and had three children, including a grown son who was also an officer with the Salt Lake City Police Department. Hamby is buried in the Salt Lake City Cemetery.
The Police Department wishes to thank the Utah Law Enforcement Memorial for its assistance in this remembrance.
###