New Webpage Displays Calls for Police Service
February 21, 2013
BOLO: Aggravated Assault Suspect
February 28, 2013
Free coffee when you talk with an officer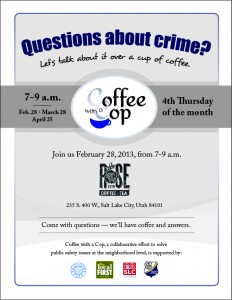 February 27, 2013 — The Salt Lake City Police Department's monthly community outreach program, "Coffee with a Cop," stops at The Rose Establishment, 235 S. 400 W., Thursday from 7–9 a.m.
Officers from the Community Intelligence Unit, who regularly attend Community Council meetings across the city, will be on hand to answer questions about public safety. The Rose will provide a free cup of coffee to people who speak with an officer.
A collaborative effort to solve public safety issues at the neighborhood level, "Coffee with a Cop" is supported by Salt Lake City, Local First Utah and the Downtown Alliance.
WHAT:
Coffee with a Cop
WHEN:
Thursday, February 28, 2013
7–9 a.m.
WHERE:
The Rose
235 S. 400 W.
Salt Lake City, Utah 84101
Contact: Reporters seeking comment should contact the Public Information Officer at 801.799.NEWS (6397).
###