Sugar House Business Burglar Strikes Again
March 8, 2013
BOLO: FRAUD SUSPECT
March 14, 2013
Killed in the Line of Duty 84 Years Ago This Week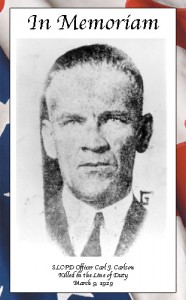 March 8, 2013 — The Salt Lake City Police Department remembers the loss of one its own: Officer Carl J. Carlson, killed in the line of duty March 9, 1929.
Officer Carlson, 39, died from injuries he received during a liquor raid the previous day. He and fellow officers raided 23 S. West Temple, where they located several barrels of mash. One of the 50-gallon barrels fell on Officer Carlson's foot, causing him to jump back and strike his head against the wall.
Following treatment for the foot injury at the hospital, Officer Carlson attended a wrestling exhibition. There he was found semi-conscious, clinging to a lamppost. Taken to the hospital, he died the following morning of a basal skull fracture.
Officer Carlson was married and the father of six children. He is buried at Wasatch Lawn Memorial Park.
To learn more about the Department's Fallen Officers and its memorial plaque program, please visit: slcpd.com/newsroom/fallen.
###