Police Department Annual Gala Thursday
May 15, 2013
Update: BOLO canceled for Ginger Senteno.
May 16, 2013
In Memoriam: Officer Michael J. Dunman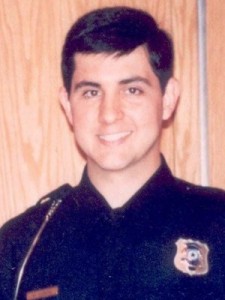 May 16, 2013 — Friday afternoon at 3 p.m., the Salt Lake City Police Department will dedicate a plaque in memory of an officer killed in the line of duty 13 years ago.
The bronze marker honors the sacrifice of Officer Michael J. Dunman, who was on bicycle patrol near 1500 South State Street when a vehicle jumped the curb and struck him from behind. Dunman suffered massive head injuries and died shortly after arriving at LDS Hospital. His killer, who fled the country after being released from jail, remains at large.
Sponsored by retired SLCPD Captain Zane Smith, it is the seventh memorial plaque installed by the Salt Lake City Police History Project. The Department wishes to thank Dave Morris for granting permission to install Dunman's plaque on the Piper Down Pub.
WHO:

Members of Officer Dunman's family

 

Chief Chris Burbank

 

Robert Kirby, Author, "End of Watch: Utah's Murdered Police Officers"

 

Zane Smith, SLCPD, Captain, Retired

 

SLC Police History Project

WHAT:

Dedication of memorial plaque for Fallen Officer Michael Dunman

 

 

WHEN:

3 p.m. Friday, May 17, 2013

 

 

WHERE:

Piper Down Pub

1492 S. State Street

Salt Lake City, UT 84115
Contact: Reporters seeking comment should contact the Public Information Officer at 801.799.NEWS (6397).
###