BOLO: Yocundo Cruz- Silva negligent homicide.
May 23, 2013
CIU Officers to Conduct Burglary Prevention Operation in District 5
May 28, 2013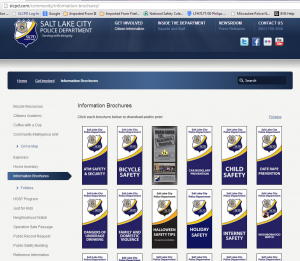 May 24, 2013 — With Memorial Day weekend kicking off the summer fun and vacation season, the Salt Lake City Police Department encourages the public to take preventive safety measures to ensure a happy holiday and summer experience.
A variety of safety brochures are available on the department's website, www.slcpd.com, excerpts from which are listed below:
Stop home delivery at the post office (online hold service) or arrange daily pickup by a friend.
Don't pick up hitchhikers.
Avoid carrying large sums of cash.
Plan your route and make sure someone knows where you will be going and when you expect to be back.
Carry identification with you and always wear a helmet.
Understand the laws and rules of the road.
Hide valuables.
Keep your car visible.
Lock doors and roll up windows when parking.
Just for Kids (includes Kid Safety Oath):
Never accept rides, candy or gifts from strangers.
If lost, ask a store clerk, security guard or police officer for help.
Always lock household doors and windows, even when home. Never let a stranger inside.
Take 25 (a parents' guide to talking with kids about safety):
Teach children their full names, address, and home telephone number. Make sure they know parents' full names.
Take children on a walking tour of their neighborhood and point out approved houses.
During family outings, establish a central, easy-to-locate spot to meet for check-ins or should you get separated
SLCPD Safety Brochures available in Spanish are posted at: slcpd.com/community/information-brochures/folletos/
Contact: Reporters seeking comment should contact the Public Information Officer at 801.799.NEWS (6397). Note: The Public Relations Unit will be closed Monday in observance of the Memorial Day holiday. Regular operating hours will resume Tuesday, May 28, at 8 a.m.
###