Photographers Invited to Capture City Skyline from Balconies of New PSB
July 25, 2013
Meet the Author, K9 Officer Behind 'Bloodhound in Blue' at Book Signings
August 1, 2013
Heesoon Cho, 77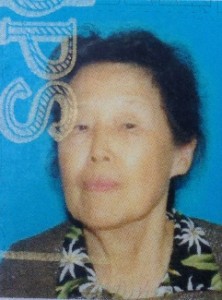 Posted: July 25, 2013 — The Salt Lake City Police Department seeks the public's help to locate an elderly woman who wandered away from her home on the 200 block of 1100 East this afternoon.
Heesoon Cho, 77, was last seen at her home shortly before 2 p.m. by a family member who was there working in the yard. At approximately 2:22 p.m., he called SLC911 to report her missing.
Although Cho has wandered away from home before, due to a medical condition with symptoms of memory loss and confusion, she has usually returned home. She likes to head downtown, so officers are contacting nearby businesses and libraries and the Utah Transit Authority to be on the lookout for Cho.
Description:
5 feet 2 inches tall,

110 lbs.,

brown eyes,

black, mid-length curly hair,

and wearing a light blue floral shirt, light gray Capri pants, and black shoes.
Anyone who sees Cho is asked to call (801) 799-3000. Please reference case #13-118106.
Contact: Reporters interested in comment on this story should meet the PIO/Lt. Josh Scharman at the corner of 1100 East and Thistle Avenue.
###