SLCPD Launches (801) 799-3100 for General Information Inquiries
August 26, 2013
SLCPD Motor School Media Day
August 29, 2013
SLCPD's restored race car to debut at car, motorcycle show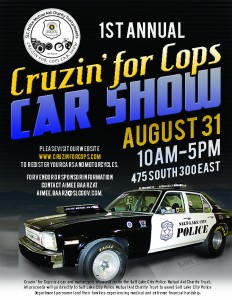 Click for downloadable/printable flyer
SALT LAKE CITY — The Salt Lake City Police Mutual Aid Charity Trust invites the public to the first annual "Cruzin' for Cops" car and motorcycle show
Saturday, August 31, 10 a.m. to 5 p.m. at the Public Safety Building, 475 S. 300 E., Salt Lake City.
The department's newly-restored 1975 Nova, which officers used to race at Bonneville Raceway, will make its debut at the car show. For a suggested $20 donation, the Police Mutual Aid Charity Trust encourages owners of classic cars and motorcycles to register their rides at www.cruzinforcops.com and join in the fun.
All proceeds from "Cruzin' for Cops" will benefit police department personnel experiencing medical or extreme financial hardship.
Contact: Reporters seeking comment should contact PMAA President Lamar Ewell, (801) 799-3260, or PMAA Secretary Aimee Baarz, (801) 799-3801.
###