SLCPD Seeks Public's Help to ID Suspects in Armed Robbery
September 20, 2013
'Coffee with a Cop' Joins with Central 9th Neighborhood Fair Thursday Evening
September 23, 2013
Call (801) 799-3000 if you see her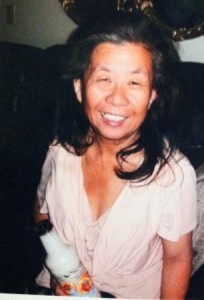 SALT LAKE CITY — The Salt Lake City Police Department seeks the public's help to locate a missing, endangered adult.
Le Tuyet, 55, was last seen at a bus stop near 1300 N. Redwood Road at approximately 9 a.m. Thursday, September 19. The bus stop is near the home she shares with her mother on the 1300 North block of Morton Drive. While Tuyet has spent the night away from home without notice before, she usually returns the next day. However, Tuyet's family became concerned and contacted SLCPD at approximately 8 p.m. this evening.
Tuyet is considered endangered due to:
a history of mental illness, medication for which she does not have on her;
she will not eat of her own accord and likely hasn't eaten since leaving home;
last seen wearing a pink shirt and tan sweatpants, her clothing is insufficient for the cool evening temperatures expected this weekend.
Tuyet is enrolled at the University and may have been headed there by bus yesterday. Without her medication, she may appear disoriented and become easily distracted.
If you see Tuyet, please call (801) 799-3000 to report her location. Reference: case #13-152903
Contact: Reporters seeking comment should contact the Public Information Officer at (801) 799-NEWS (6397).
###