Idling Cars Prime Targets for Idle Hands
October 30, 2013
New Study Ranks Utah's Collaboration Between CIT, Mental Health Courts Tops in Nation
October 31, 2013
Get your costume on today from 2-5:30 p.m.,  Thursday, October 31, 2013.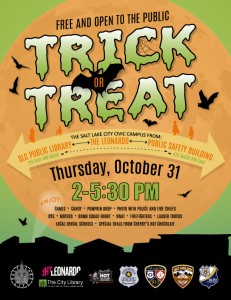 SALT LAKE CITY — The annual Halloween party hosted by the Salt Lake City Police and Fire Departments will be bigger and better this year, with festivities stretched between the plaza at the new Public Safety Building, across 300 East, and Library Square.
Today, Thursday, October 31, from 2-5:30 p.m., the public is invited to trick-or-treat and meet police officers and firefighters. The police department will close 300 East between 400 and 500 South to accommodate the free party, which will include candy and games from the following partners:
Police:

K9s
Motors
Bomb Squad
SWAT
Volunteer Corps
Patrol Officers
Photos with Chief Chris Burbank
Fire:

Ladder trucks
Pumpkin drop
Firefighters
Photos with Chief Kurt Cook
SLC911
Police Mutual Aid Association
Salt Lake Police Association
City Library
The Shops at Library Square
The Leonardo
Salt Lake City Mayor's Office
Salt Lake City Council's Office
Be sure to look for creepy crawlies with The Bug Lady, Christy Bills of the Natural History Museum of Utah; birds of prey with Earthwings; and a great deal on hot chocolate at the Cherry's Hot Chocolate food truck.
Tips for a Safe Halloween: Carry a flashlight and travel in a group. Adults should accompany young children at all times. Never enter a stranger's car or home. Parents: check treats before allowing children to eat anything. For more Halloween safety tips, download our Halloween safety brochure or watch this short video (Español).
Contact: Reporters seeking comment should contact the Public Information Officer at 801.799.NEWS (6397).
###