Investigators to Screen Drug Investigation of City Employee with DA's Office This Afternoon
February 20, 2014
SLCPD to Host Bank Safety Summit Tuesday
February 21, 2014
$500 reward offered for information leading to arrest, conviction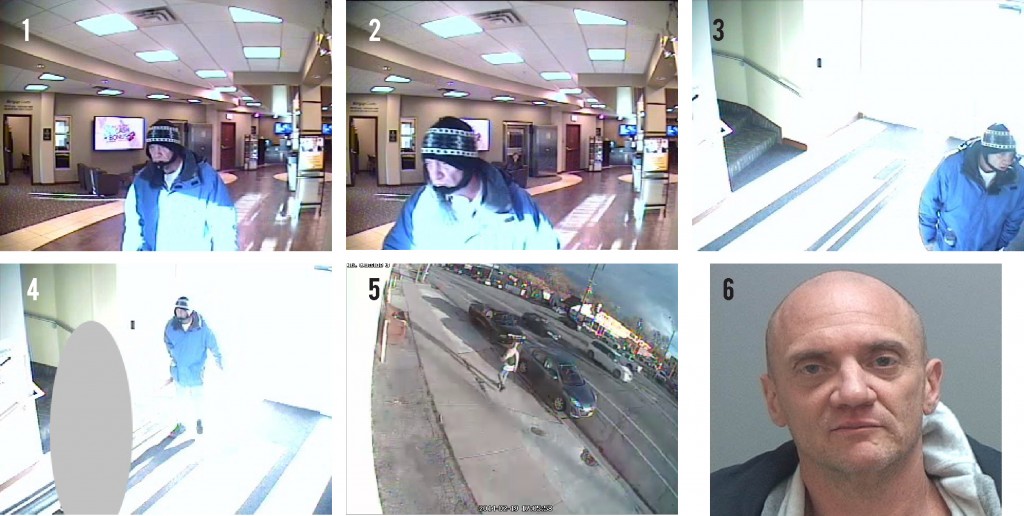 Photos 1-4: images from credit union surveillance video. Photo 5: surveillance image outside the credit union, after the suspect has changed clothing. Photo 6: booking photo of suspect from an unrelated case.
SALT LAKE CITY — The Salt Lake City Police Department seeks the public's help in finding Michael Alexander Bacon (1/14/69), who has been identified as the suspect in the robbery of the Mountain America Credit Union Wednesday, February 19, 2014.
At approximately 5 p.m., the suspect entered the Mountain America branch at 735 S. State Street and demanded money from the teller. The suspect fled the premises on foot, southbound, and changed clothes behind businesses in the area.
Michael Bacon is described as:
white male,

5 feet 11 inches tall,

180 lbs.,

tanned weathered face, large nose,

balding,

and blue eyes.
Bacon's last known address is the shelter area, 210 S. Rio Grande, Salt Lake City.
Witnesses have identified Bacon as the suspect in the robbery, and there are warrants for his arrest in similar cases along the Wasatch Front. The police department is offering a $500 reward for information leading to Bacon's arrest and conviction.
The Police Department asks anyone who may know Bacon's location to call (801) 799-3000. Anonymous tips may be sent by texting the keyword TIPSLCPD plus any relevant information to 274637. Reference: case #14-27736.
 Contact: Reporters seeking comment should contact the Public Information Officer at 801.799.NEWS (6397).
###