Media Advisory: PIO, Investigator to Update Info on Search For Missing Woman
March 11, 2014
SLCPD to Launch 'Trucks Need Space' Friday Afternoon
March 13, 2014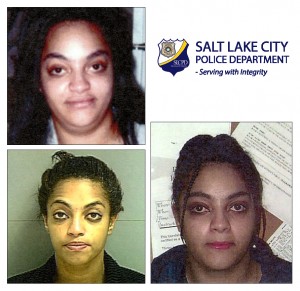 Homicide victim Aletha Jo Williams (photo: SLCPD case file).
SALT LAKE CITY — The Salt Lake City Police Department has upgraded the search for missing woman Aletha Jo Williams to a homicide investigation. Updated information as follows:
Expanded timeline of disappearance:
Based on tips from the public and numerous interviews conducted by investigators, detectives now believe Williams may have disappeared as early as November 2001 or the first part of 2002.
Searches, forensics:
Detectives have seized a motor home believed to be involved in the homicide, searched a home in Kearns, a business in South Salt Lake, and another separate body of water besides the Jordan River.
These locations and items seized are being processed for forensic evidence.
Photos of Aletha:
The photos issued to date do not accurately depict Aletha at the time of her disappearance. Because she was six-months pregnant, she would be heavier than she appears in pictures disseminated to the public.
Suspects:
Investigators have a person of interest in this case but are withholding that person's identity at this time. It is imperative that more people come forward and share information about this case. Friends, co-workers, and acquaintances who knew or encountered Williams are encouraged to come forward and help investigators piece together Williams' life at the time of her disappearance.
Call (801) 799-3000 to share information about the Williams homicide. Anonymous tips may be sent by texting the keyword TIPSLCPD plus any relevant information to 274637. Reference: case #2002-79626 or Williams homicide.
Contact: Reporters seeking comment should contact the Public Information Officer at 801.799.NEWS (6397).
 ###