SLCPD Welcomes 17 New Explorers Saturday March 29, 2014
March 27, 2014
Police Need Help Locating A Possible Additional Witness in Today's Officer Involved Shooting
March 28, 2014
UPDATE:  CAPTURED
$500 reward offered for information leading to arrest, conviction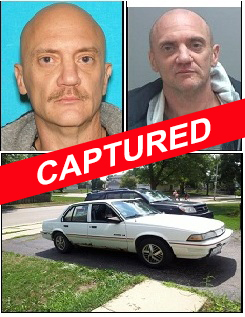 SALT LAKE CITY — The Salt Lake City Police Department seeks the public's help in finding Michael Alexander Bacon (1/14/69), who has been identified as the suspect in five bank robberies in the Salt Lake Valley.
Cases in which Bacon is believed to be the prime suspect include:
• Feb. 2: Zions Bank 870 N. Highway 89 N., North Salt Lake
• Feb. 19: Mountain America Credit Union 735 S. State St., SLC
• Mar. 21 Zions Bank 3712 W. 3500 S., WVC
• Mar. 24: US Bank 922 E. 2100 S., SLC
• Mar. 24: Chase Bank 1306 E. Woodland Ave., SLC
Michael Bacon is described as:
• white male,
• 45 years old,
• 5 feet 11 inches tall,
• 200 lbs.,
• tanned weathered face, large nose,
• balding,
• blue eyes.
Bacon's last known address is the shelter area, 210 S. Rio Grande, of Salt Lake City.
Investigators believe Bacon is traveling with his ex-wife, a female white adult, 36 years old, 5 feet 9 inches, 143 lbs., with hazel eyes and red hair.  The two are in possession of a stolen white 1994 Pontiac Sunbird. The 4-door car bears UT license plate #Y848PP, and has rust on the doors (vehicle pictured above not the actual vehicle but is the same make/model).
The Police Department asks anyone who may know Bacon's location to call (801) 799-3000. Anonymous tips may be sent by texting the keyword TIPSLCPD plus any relevant information to 274637. Reference: case #14-27736.
Contact: Reporters seeking comment should contact the Public Information Officer at 801.799.NEWS (6397).
###