SLC 1 of 4 US Cities to Take Part in New Study on Sexual Assault Investigations
August 2, 2014
BOLO: Andrew Barela, Burglary and Theft Warrants For Probation Violation
August 6, 2014
Annual event strengthens partnership between officers, community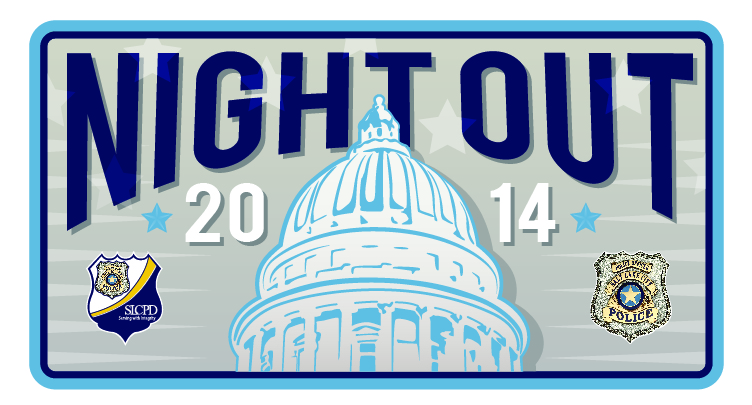 SALT LAKE CITY — A bike safety rodeo at Westpointe Park Tuesday afternoon will kick off "Night Out Against Crime" events in Salt Lake City, where officers will attend community events to talk about crime trends and the public safety programs available to them.
"A law enforcement approach alone can't stop crime," said Chief Chris Burbank. "Night Out events provide a great way to catch up with old friends, make new ones, and work together on issues in a community. But neighbors looking out for each other—they make the real difference in the fight against crime."
Night Out Against Crime is designed to strengthen the partnership between officers and the communities they serve. At a minimum, residents are asked to turn on a porch light and talk with neighbors about what's going on in their neighborhoods. While a bike safety rodeo at 4 p.m. at Westpointe Park will kick off this year's Night Out in Salt Lake City, several Community Councils have events planned:
Westpointe, 1920 W. Colonel Rd. (1100 North), 5-8:30 p.m.
Glendale, 1313 W. California, 5:30-9 p.m.
East Liberty, 1033 S. Lake St., 6:30-8:30 p.m.
Look for Chief Burbank, officers from a variety of specialty squads—including patrol, motors, K9, bomb squad, SWAT, gangs—volunteers from Explorer Post #2471, and Mobile Watch members at this year's Night Out Against Crime.
| | |
| --- | --- |
| WHAT: | Night Out Against Crime bike safety rodeo |
| | |
| WHEN: | Starts at 4 p.m. Tuesday, August 5, 2014 |
|   | |
| WHERE: | Northwest parking lot of Westpointe Park |
|   | 1920 W. Colonel Rd. (1100 North) |
|   | Salt Lake City, UT 84104 |
|   | |
###