SLCPD Seeks Public's Help to Find Missing Vulnerable Adult
August 26, 2014
MEDIA AVAIL: Chief Burbank, FBI Task Force Available to Talk Crime Trends Ahead of 3-Day LEO Conference
September 1, 2014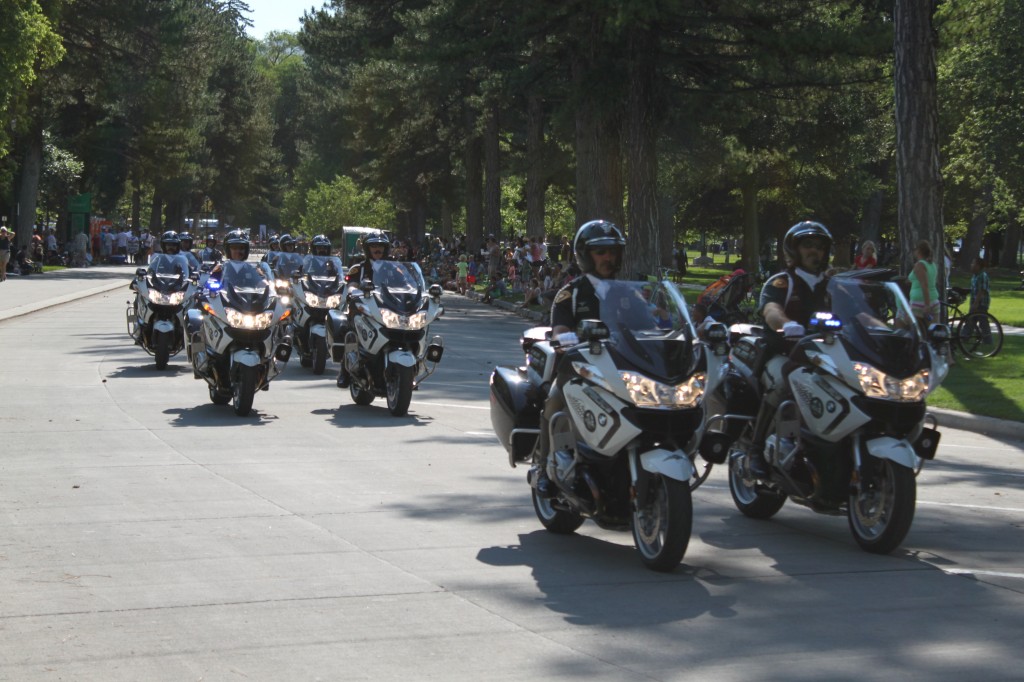 SLCPD Motor Squad enters Liberty Park during Days of '47 Parade, July 24, 2014. (Photo: SLCPD)
SALT LAKE CITY—The Salt Lake City Police Department will be holding its annual motor school for SLCPD officers interested in assignment to the motorcycle squad. The training will be open to media Friday morning at the Utah State Fairpark, 155 N. 1000 W., Salt Lake City, where the unit has trained for more nearly 25 years.
The purpose of the two-week school is to make certain that each candidate is able to operate a motorcycle under different scenarios routinely encountered by motor officers. Riders must prove their skill by successfully navigating a variety of obstacle courses, as well as pass a braking exam.
The Police Department invites members of the media to observe a training session from 10–11 a.m. Friday, August 29, 2014.
| | |
| --- | --- |
| WHO: | SLCPD Motorcycle Squad and officers from four other agencies |
| | |
| WHAT: | Motor School candidates navigating obstacle courses |
| | |
| WHEN: | 10–11 a.m. Friday, August 29, 2013 |
|   | |
| WHERE: | Utah State Fairpark parking lot |
|   | 155 N. 1000 W. |
|   | Salt Lake City, UT 84116 |
|   |   |
| Attachment: | Photo of SLCPD Motorcycle Officers during the Days of '47 Parade July 24, 2014. |
|   | |
| Contact: | Reporters seeking comment should contact thePublic Information Officer at 801.799.NEWS (6397). The PIO will be on scene during this media availability to facilitate interviews with motor school instructors and participants. |