Crosswalk Enforcement Open to Reporters
September 5, 2014
SLCPD Volunteer Corps, Motor Squad Partner for DUI Saturation Saturday Night
September 11, 2014
Major Drilling chooses SLCPD, Daggett Co. Search & Rescue K9s to receive donations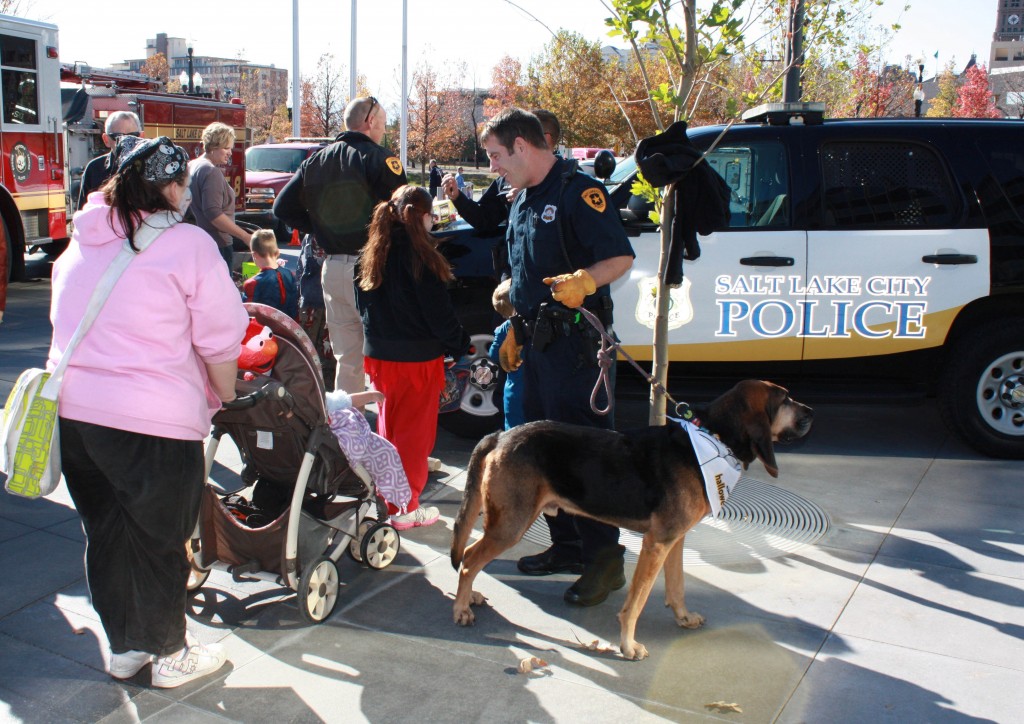 K9 Officer Hunnewell (above) and public service dog Mo talk to trick-or-treaters during a 2013
Halloween party at the Public Safety Building. (Photo: SLCPD)
SALT LAKE CITY—Major Drilling of Salt Lake City will present the K9 unit of the Salt Lake City Police Department with a donation Thursday afternoon, the result of an annual company fundraiser.
The company's annual golf tournament has turned into a significant fundraiser for local charities and causes supported by Major Drilling, its employees, clients and vendors. This year, Major Drilling chose to support public service dogs of the Salt Lake City Police Department and Daggett County Search & Rescue.
The public is invited to a presentation by Major Drilling, which will include a K9 demonstration by SLCPD's K9 Unit, Thursday afternoon.
| | |
| --- | --- |
| WHO: | Major Drilling |
| | Salt Lake City Police Department K9s |
| | |
| WHAT: | Donation by Major Drilling; K9 demonstration |
| | |
| WHEN: | 2 p.m. Thursday, September 11, 2014 |
|   | |
| WHERE: | Public Safety Building, on the plaza |
|   | 475 S. 300 E. |
|   | Salt Lake City, UT 84111 |
|   |   |
| Visuals: | K9 officers and public service dogs will demonstrate their skills |
|   | Major Drilling will present oversized check |
|   |   |
| Contact: | Reporters seeking comment should contact thePublic Information Officer at 801.799.NEWS (6397). |
###