Public Notice: Evidence Disposal October 27, 2014
October 17, 2014
Code R Kits Project: 20 More Cases Posted for Public Review at SLCPD.com
October 20, 2014
Bring one can of food to help fill donation barrels for the Utah Food Bank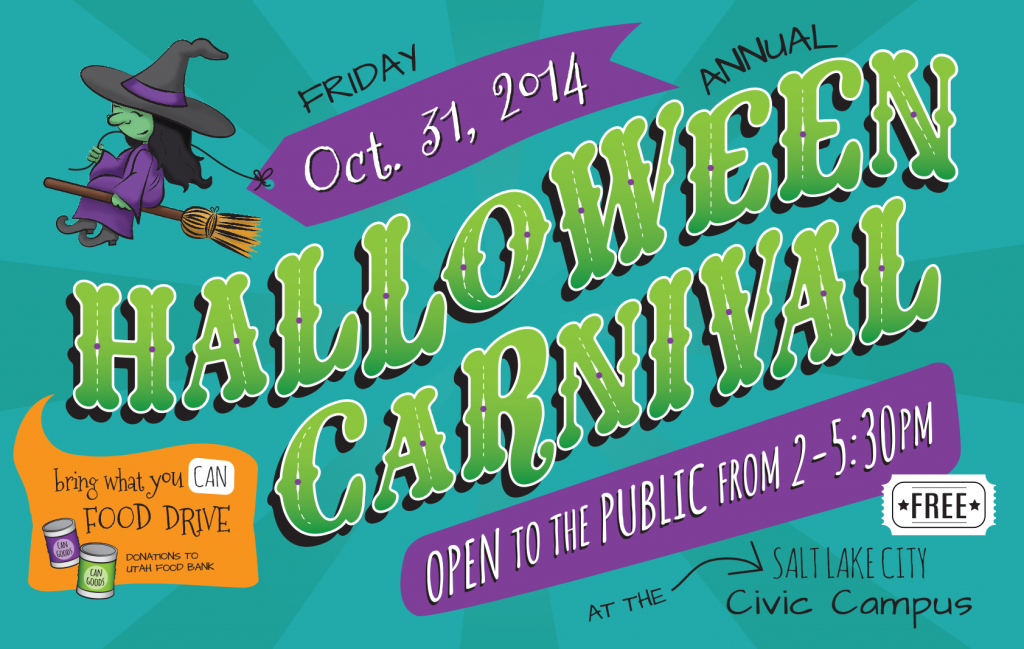 Click here or photo above for event poster
SALT LAKE CITY — Put on your best costume and come on down to the Public Safety Building, 475 S. 300 E., and Library Square for a free Halloween Carnival Friday, October 31.
Free and open to the public from 2-5:30 p.m., the police and fire department also ask partygoers to bring a can of food to donate to the Utah Food Bank.
"This annual tradition has grown into something for the whole community to enjoy," said Chief Chris Burbank, who will have a photo booth at the carnival. "While it's free, we're asking people who can afford it, to bring a can of food and help us fill up some donation barrels for the Utah Food Bank."
A public safety tradition started by the Police Mutual Aid Association, the Halloween Carnival now stretches from the plaza at the new Public Safety Building, across 300 East, and onto Library Square. The public is invited to trick-or-treat and meet police officers and firefighters, Mayor Ralph Becker, members of the City Council, and a variety of other city departments and partners.
The police department will close 300 East between 400 and 500 South to accommodate the free party, which will include candy and games from the following partners:
Salt Lake City Police Department: K9s, Motors, Bomb Squad, SWAT, Volunteer Corps, Patrol, Chief Burbank (photo booth).
Salt Lake City Fire Department: ladder trucks with pumpkin toss, firefighters, Chief Kurt Cook (photo booth).
SLC911
Police Mutual Aid Association
Salt Lake Police Association
Salt Lake City Mayor's Office
Salt Lake City Council's Office
City Library, storytime in the Children's Library, movies in the auditorium, free books on the plaza
The Shops at Library Square
The Leonardo
Youth City, "Lights On After School"
Nightmare of 13th
Earthwings
Natural History Museum of Utah's "Bug Lady," aka Christy Bills
American Chemical Society
Roseman University College of Dental Medicine
UTA Transit Police
Be sure to look for creepy crawlies with The Bug Lady, Christy Bills of the Natural History Museum of Utah; birds of prey with Earthwings; and lots of candy, fun and games in a safe environment.
Tips for a Safe Halloween: Carry a flashlight and travel in a group. Adults should accompany young children at all times. Never enter a stranger's car or home. Parents: check treats before allowing children to eat anything. For more Halloween safety tips, download our Halloween safety brochure or watch this short video (Español).
MEDIA CONTACT:
Public Relations Unit
801.799.NEWS
801.799.6397
###