Press Release: $500 Reward Offered for Information Leading to Arrest of Serial Robber
November 4, 2014
SLCPD Awarded $270,000 Grant for Cold Case Homicide, Rape Investigations
November 5, 2014
#MissingPersons: have you seen these missing, presumed endangered men? Call 801.799.3000. http://t.co/BkVbU3vujc pic.twitter.com/Hb8edGY1Do

— SLC Police Dept. (@slcpd) November 4, 2014
Missing persons (l-r): Danny Gallegos (35), Braden Emerson (23) and Levi Collins (34).
SALT LAKE CITY — Detectives are looking for help from the public to locate three men connected to a suspicious vehicle found abandoned near 1500 S. Redwood yesterday afternoon.
At 10:37 a.m. Monday, November 3, 2014, the Salt Lake City Police Department responded on an abandoned white Chevy Tahoe at 1800 W. 1500 S.  Initially, the vehicle had been reported to Salt Lake County Animal Control because of a dog left inside it. Upon arrival, Animal Control officers found a significant amount of blood inside the SUV and referred the case to police.
After assuming command of the investigation, homicide detectives connected three men (pictured above) to the vehicle. At this point, detectives have not been able to locate or contact any of them.
The missing men include: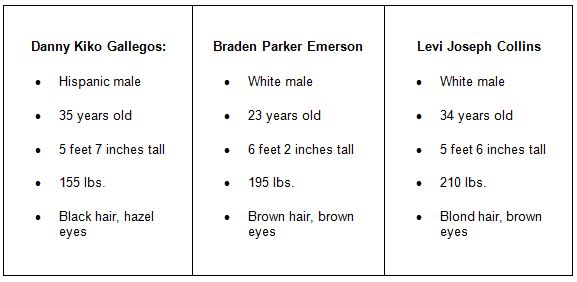 If you know the whereabouts of any of the men, please contact the police department:
Call: (801) 799-3000.
Text: send the keyword TIPSLCPDplus any relevant information to 274637. This service provides anonymity to the sender. Reference: case #14-192695.
MEDIA CONTACT:
Public Relations Unit
801.799.NEWS
801.799.6397
###