Do you recognize this robbery suspect?
November 19, 2014
Chief's Message: Holiday Safety
December 5, 2014
Officers to treat kids to breakfast, lights-and-sirens convoy, holiday shopping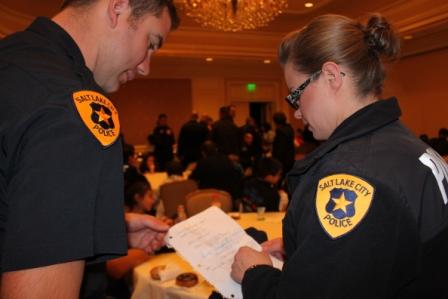 Detectives review a Christmas shopping list during "Shop with a Cop" 2013. (Photo: SLCPD)
SALT LAKE CITY—Salt Lake City police officers and civilian employees will join with other members of law enforcement for "Shop With A Cop" this Saturday morning, December 6.
For 24 years, the Salt Lake Police Association has taken the lead in organizing the annual holiday tradition for law enforcement across the Salt Lake Valley. This year, 100 officers from a dozen agencies will volunteer their time to help 100 children with their Christmas shopping.
The event starts at 6 a.m. at Little America, where children are paired with a police officer. Together the dynamic duos eat breakfast, convoy in police vehicles to Kmart—where Santa will arrive by Utah Highway Patrol helicopter—and then shop for Christmas gifts for the children and their families.
Reporters are invited to join the fun at any point between 6 and 10 a.m. Saturday, December 6.
WHO:
100 children from Whittier, Backman, Taylorsville, Wilson Woodrow, and North Star elementary schools; Santa; Salt Lake Police Association; officers from Salt Lake City, South Salt Lake, Sandy, West Valley, West Jordan, South Jordan, Draper, Murray, Unified/Taylorsville, Utah Highway Patrol, Utah Transit Authority, Moab.
WHAT:
24th Annual Shop With A Cop
WHEN:
Event runs 6-10 a.m. Saturday, December 6, 2014*
6:00 a.m.: Officers paired with children; breakfast at Little America
6:45 a.m.: Convoy to Kmart begins
7:45 a.m.: Santa's chopper lands at Kmart
8-10 a.m.: Shopping and wrapping of gifts
* = times are rough estimates as event moves between locations
WHERE:
Little America, 500 S. Main St., Salt Lake City
Kmart, 1442 W. 9000 S., West Jordan
VISUALS:
Officers meet kids and eat breakfast at Little America
Convoy staged on 500 South (north side of Little America)
Convoy en route to Kmart in West Jordan
Convoy arrives at Kmart
Santa arrives by UHP helicopter at Kmart (approximately 8 a.m.)
Officers and kids shop for gifts
Volunteers wrap gifts
Kids talk with Santa
CONTACT:
Day-of: Lara Jones, (801) 799-3340; Twitter: @slcpd

MEDIA CONTACT:
Public Relations Unit
801.799.NEWS
801.799.6397
###