VIDEO: Chief's Message 2, December 2014: HOST and Holiday Giving
December 9, 2014
VIDEO: Shows Hoberman Arch Thieves Leaving Scene of Crime
December 10, 2014
Safety tip: Always document serial numbers, other identifying information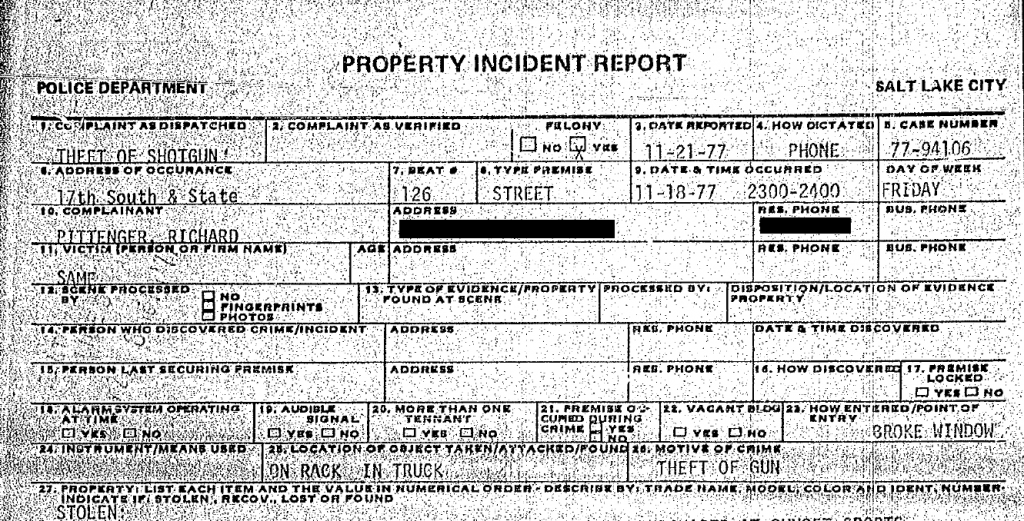 Original theft report filed in 1977 leads to recovery of stolen property … nearly four decades later.
(Source: SLCPD)
SALT LAKE CITY—It isn't often that a police department is able to return property decades after taking the initial report of theft, but that's exactly what will happen when a man stops by the Public Safety Building Wednesday afternoon.
It was November 1977 when Richard Pittenger's truck was broken into near 1700 South and State Street and his 20-gauge shotgun was stolen. Pittenger, who had recently purchased the rifle, included the serial number in the police report.
Fast-forward 37 years and a few states to the northwest, an Oregon State Trooper came across the rifle. The trooper ran the serial number to determine ownership and discovered the rifle had been reported stolen out of Salt Lake City.
Salt Lake City police Detective Rod Van Scoy tracked down Pittenger, to whom he will return the rifle at 11 a.m. Wednesday, December 10, 2014.
Public Safety Tip:
At any given time, SLCPD has hundreds of items in evidence that it would like to return to owners — property that can only be returned should the rightful owners prove their claims. The links below provide a suggested home inventory tracking sheet. Please check with your insurance provider for other documentation ideas.
| | |
| --- | --- |
| WHO: | Richard Pittenger, property owner |
| | Det. Rod Van Scoy, investigator |
| | |
| WHAT: | Return of stolen property after 37 years |
| | |
| WHEN: | 11 a.m. Wednesday, December 10, 2014 |
|   | |
| WHERE: | Public Safety Building lobby |
|   | 475 S. 300 E. |
|   | Salt Lake City, UT 84111 |
|   | |
MEDIA CONTACT:
Public Relations Unit
801.799.NEWS
801.799.6397
###