Public Notice: Evidence Disposal Set for December 22, 2014
December 11, 2014
Have You Seen This Bank Robber?
December 12, 2014
Free coffee when you talk to an officer from 8-10 a.m. at Toasters December 16th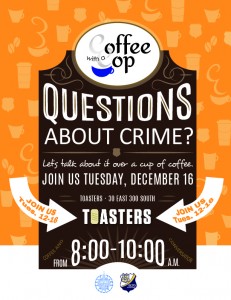 Click image to download poster
SALT LAKE CITY — The Salt Lake City Police Department will celebrate two years of "Coffee with a Cop" when officers serve up free coffee Tuesday morning at Toasters.
"For two years we've been meeting people over coffee, identifying issues, working to help people solve all kinds of problems in their neighborhoods," said Chief Chris Burbank,  adding, "it's even more important today than it was when we started, given the national conversation about law enforcement and police brutality. So we hope the community will recognize the value of 'Coffee with a Cop' and continue to join us to have one-on-one conversations that break down barriers and create greater understanding—one cup of coffee at a time."
Located at 30 E. 300 S., Toasters will host "Coffee with a Cop" from 8-10 a.m. Tuesday, December 16, 2014. Community Intelligence Officers will be on hand to discuss crime trends with patrons, as well as answer questions or address concerns they may have about law enforcement in general.
The police department has held nearly 30 "Coffee with a Cop" events since January 2013. SLCPD thanks past hosts and venues for their commitment to the community building program:
Mestizo Coffee House
The Rose Establishment
Beans & Brews
Nobrow Coffee Werks
Smith's Food & Drug (7-time host or sponsor)
Local First Utah
Coffee Garden
Red Moose Coffee Co.
Blue Plate Diner
Piñon Café
Pioneer Park
Sugarhouse Coffee
Publik Coffee Roasters
Liberty Park
Sunday Anderson Westside Senior Center
McDonald's
Salt Lake Roasting Co.
Liberty Park
Pioneer Park Coalition (4 days in the park)
MEDIA CONTACT:
Public Relations Unit
801.799.NEWS
801.799.6397
###