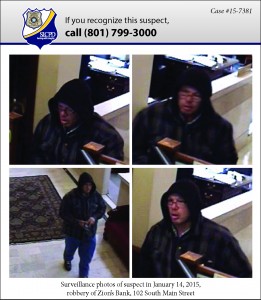 SALT LAKE CITY — The Salt Lake City Police Department seeks the public's help to identify the suspect that robbed a Zion's Bank located at 102 South Main Street.
At approximately 11:47 a.m. Wednesday, January 14, the suspect in the photos (above) entered the bank, intimated he had a gun and demanded money. The cashier complied and the suspect fled northeast on foot.
Suspect description:
Male White adult
Gray hair and mustache
5 feet 10 inches tall
Heavy build
50-years-old
Dark hoodie under a plaid jacket
Blue pants
Eyeglasses
The Police Department asks anyone who may know the identity or location of this suspect to call (801) 799-3000. Anonymous tips may be sent by text to 274637. Please start your text with TIPSLCPD—which is a keyword that routes it to SLCPD—then include any relevant information. Reference: case # 15-7381.
 ###