SLCPD Seeks the Community's Help to Identify and locate Theft/Vandalism Suspect(s)
May 1, 2015
UPDATE: SLCPD Seeks Community's Help to Locate Homicide Suspect
May 7, 2015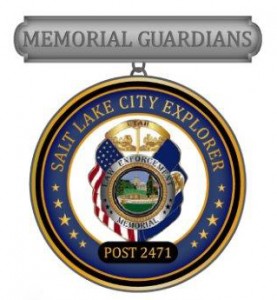 16 SLCPD Explorers to be pinned as 'Guardians of The Fallen' by Utah Law Enforcement Memorial Board
Pinning ceremony at 5:30 p.m. Today, Tuesday, at Utah State Capitol
 
SALT LAKE CITY — The Utah Law Enforcement Memorial will present the "Explorer Memorial Guardians" pin to 16 new Salt lake City Police Department Explorer's.
Salt Lake City Police Explorer Post #2471 will be pinned during a ceremony on the west lawn of the Utah State Capitol Tuesday afternoon.
The ULEM board of directors created the unique pin for the Police Explorers who have watched over its Fallen Officers memorial since November 2013. As "Guardians of the Fallen," the all-volunteer group of young men and women, ages 14-20, will take part in a variety of events at the site this week, including:
Tuesday, May 5: Pinning ceremony and Honor One recognition today at 5:30 p.m.
Thursday, May 7: Utah Law Enforcement Annual Memorial, 11:00 a.m.
Each week Salt Lake City Police Explorers ensure the memorial is properly maintained. In addition to May's memorial service, they also will assist with the Fallen Law Enforcement Memorial Ride in August.
The community is invited to observe all events as the Salt Lake City Police Department, Salt Lake City Police Association, Utah Law Enforcement Board, and the Explorer Post, help welcome a visit from "Honor One" car. Honor One is a memorial vehicle that represents the service and sacrifice of all officers that have died in the line-of-duty. The Honor One car will be traveling with a representative from San Diego. They will be making their way to Washington DC for National Law Enforcement day on May 15, 2015. Salt lake City is just one stop they will make across the country.
Who: Board of Directors for the Utah Law Enforcement Memorial  Salt Lake City Police Explorer POST #2471
What: Pinning, annual memorial activities with ULEM.
When: Tuesday,  May 5: Pinning ceremony, Honor One recognition 5:30 p.m
Thursday, May 7: Utah Law Enforcement Annual Memorial, 11 a.m
Where: Utah State Capitol
350 N. State Street
Salt Lake City, Utah 84114