SLCPD Needs Help Identifying Robbery Suspect
July 22, 2015
SLCPD Needs Help Locating Robbery Suspect
July 23, 2015
SALT LAKE CITY – The Salt Lake City Police Department would like to inform the community about road closures and rules as they apply to the Days of '47 Parade.
Tomorrow, Thursday, July 23, those who plan on setting up along the route the evening before the parade should be aware of the following rules:
For the benefit of everyone and fairness to all, please do not set up prior to 8 p.m. or save space tomorrow evening (Thursday) along the parade route.
You may only use a canopy or see-through tents along the route.
Please do not block the right-of-way along the sidewalks/roadways.
Please do not park any vehicle along the route after 8 p.m. tomorrow evening (Thursday) or it will be towed.
For the safety and comfort of everyone, and with the exception of service animals, no dogs are permitted along the parade route. 
Friday, July 24 the community should be aware that road closures will begin shortly before 5:00 a.m. until approximately noon. Vehicle travel in the area of the parade route is not advised during this time, and the public is urged to plan ahead.
A map included below shows the parade's route.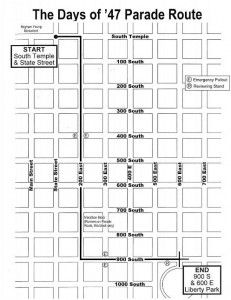 ADDITIONAL EVENTS IN SALT LAKE CITY:
Please keep in mind that on Friday, in addition to the Days of '47 Parade, there will also be the Deseret News Marathon, half-marathon, 10k and 5k races taking place in Salt Lake City. Traffic will be blocked in many areas throughout the city. Please take that into consideration as you travel in the area. Click here for related Deseret News Classic race routes.
Contact: Reporters seeking comment should contact the Public Information Officer at 801.799.NEWS (6397).
###