SLCPD Chief Brown on Sanctuary Cities
August 6, 2015
Public Notice: Evidence Disposal Monday, August 24, 2015
August 13, 2015
Please help to make it a safe experience for everyone by complying with traffic and parking restrictions: Call 801 325-7000 for up-to-date info. to avoid the race
SALT LAKE CITY — Tour of Utah Bike Race-Traffic will be allowed to cross the course during the race under police control, with short delays expected as racers pass each area roughly every 20 minutes. Traffic will be delayed, but no part of the area will lack access. Emergency vehicles will not be affected by road closures.
See below Stage 5 course for today, Friday, Aug. 7.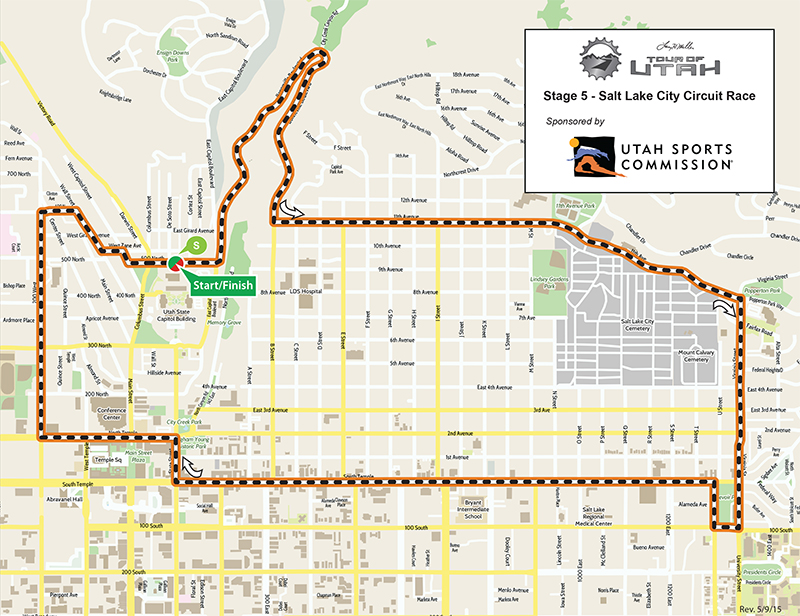 The race starts at 500 North on north side of State Capitol at 4:40 p.m. and ends about 6:45 p.m., again at 500 North on the north side of the Capitol. The riders do this same route seven times
The route will be closed at 4:15 p.m. and will stay closed until approximately 7:30 p.m.
No parking is permitted on the route starting at 1:30 p.m. Cars will be relocated if they are found on the route after that time.
Officers will assist cross traffic on South Temple Street and 11th Avenue as the safety of everyone permits.
Victory Road at Beck Street will be completely closed off to Southbound traffic at 4 p.m.
Arlington Hills entry: I Street to 13th Ave. eastbound on 13th Ave. to Terrace Hills Drive then southbound on Terrace Hills Drive to Chandler Drive. Reverse for exiting the area.
If you live north of the state capitol please see the attached map for best entry/exit.
For more information, including maps and details for today and tomorrow's events please visit the Tour of Utah website  https://www.tourofutah.com
Contact: Reporters seeking comment should contact the Public Information Officer at 801.799.NEWS (6397).
###