Police Seek Public's Help Identifying Suspects in Assault Case
November 19, 2015
SLCPD Seeks Identify of Aggravated Robbery Suspect and Vehicle
December 3, 2015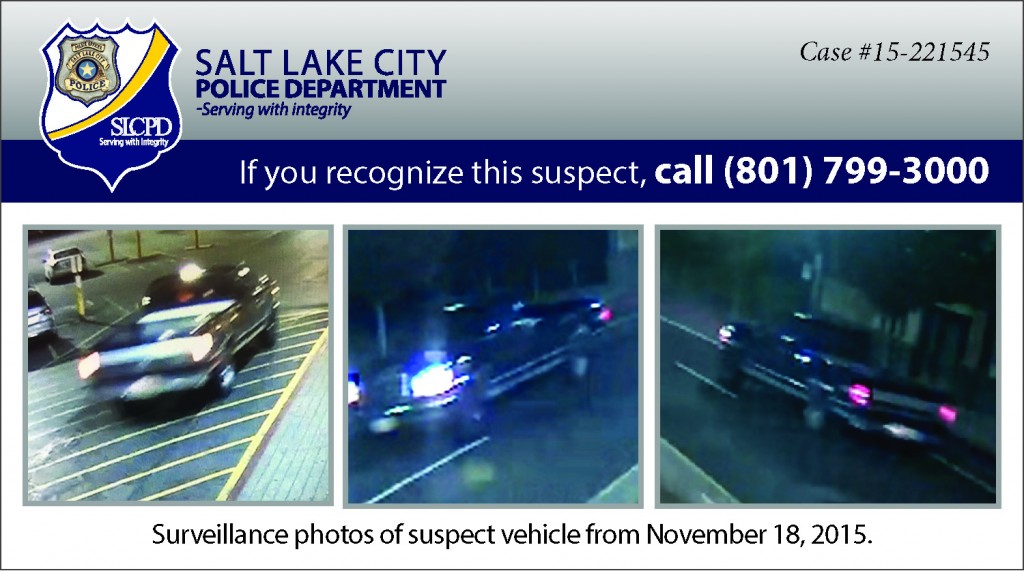 SALT LAKE CITY — The Salt Lake City Police Department asks the community's help in identifying a vehicle and suspect involved in an aggravated assault on a police officer.
At about 6:45 p.m. on Wednesday, November 18, 2015, officers were out looking for vehicle burglary suspects when they noticed an occupied truck with its dome light on at 550 West and 100 South. Officers approached the vehicle and noted drug paraphernalia inside the cab of the truck. They made contact with the driver and an officer opened the driver door of the truck. The driver suddenly reversed at a high rate of speed and the officer was caught between the door and the body of the truck. The truck eventually turned and the officer was able to free herself from the truck.
The truck then fled north on 600 West and then west on North Temple Street through the Rite Aid parking lot. The vehicle appears to be a late 90's model Ford F150, dark in color, with a chrome package. The truck has a large tool box in the bed and has the numbers "4×4" on the sides near the rear of the truck. The suspect driver is a white male adult, mid to late 30s.
The Police Department asks anyone who may know the identity and/or location of this suspect to call (801) 799-3000. Anonymous tips may be sent by text to 274637. Please start your text with TIPSLCPD, which routes it to the police department. Then include any relevant information. Reference: case #15-221545.
###