In Memoriam: Detective David W. Olson (1980)
March 22, 2016
In Memoriam: Sergeant Nephi Pierce (1923)
March 26, 2016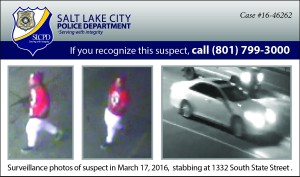 Call (801) 799-3000 if you have information
SALT LAKE CITY — The Salt Lake City Police Department is requesting the public's help to identify an aggravated assault suspect and/or the vehicle in the attached images.
Early last Thursday morning, March 17, at 1332 South State Street, a man was stabbed some 14 times. The stabbing occurred at 1:21 a.m. along the roadway just across the street from the Coachman's Restaurant.
There were a total of three male suspects involved, with the male in the included images believed to be the main stabbing suspect.  All the males were wearing red clothing and claiming to be Blood gang members.  The three men beat and stabbed the 24 year old victim, who was transported to the hospital in extremely critical condition.  The suspects then fled in a newer shiny white four door sedan, with tinted windows, shiny rims and a sunroof, as shown in the included image.  The vehicle came from the north and fled southbound on State Street.
Stabbing suspect description:
Black male adult
5 feet 8 inches tall
200 lbs.-muscular build
Early-mid 20's
Hair-black, very short, afro style
Facial Hair-goatee with small strip coming from his sideburns to his goatee
The Police Department asks anyone who may know the location of these suspects or the vehicle to call (801) 799-3000. Anonymous tips may be sent by text to 274637. Please start your text with TIPSLCPD, which routes it to the police department. Then include any relevant information. Reference: case #16-46262.
###