Press Release: Homicide Suspect in Custody, Persons of Interest Still Sought
November 30, 2017
Chief Brown statement regarding additional staffing
December 6, 2017
Salt Lake City Police Children's Book Drive
SALT LAKE CITY — The Salt Lake City Police Department in partnership with the Salt Lake School District, Salt Lake City Council, Salt Lake City Mayors Office, and the Salt Lake City Public Library are sponsoring a children's book drive. By investing in kids and encouraging early reading we are hoping to change outcomes for at risk children and prevent future crime.
"The goal of the book drive is to bridge the gap between education and crime and to build a positive relationship between kids and police officers," said Salt Lake City Police Chief Mike Brown. "But our favorite part is sitting down and reading to the children; it's such a joy."
The book drive will run from December 1st and will end December 10th. The books that are collected will then be presented to Backman and Meadowlark Elementary Schools by Chief Brown.
"The positive impact that books have on a child's education cannot be overstated," said Peter Bromberg, Executive Director of The City Library. "When kids have books in their home at a young age, they are more likely to graduate from high school and pursue higher education. Studies show that having a book at home is as important as the level of education of their parents or their income level. We're excited to be part of this initiative to get more books into more homes throughout Salt Lake City and to start our community's children toward a lifetime of academic success."
Please donate new or gently used books at the Salt Lake City and County Building, Salt Lake Public Safety Building, Pioneer Precinct and the Salt Lake City Public Library.
This is the second year that SLCPD has conducted a book drive for schools in Salt Lake City in partnership with Fight Crime: Invest in Kids.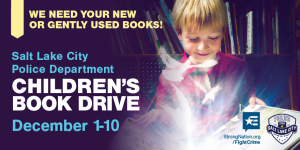 ###