Press Release: SLCPD Identifies Remains from Homicide
February 21, 2018
Press Release: SLCPD Looking for other Possible Victims of Sex Assault
March 6, 2018
SLCPD Seeks Suspect in Maverik Robbery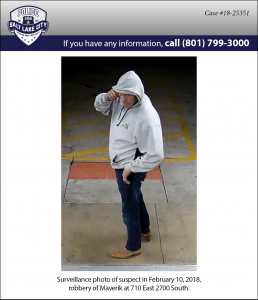 SALT LAKE CITY — The Salt Lake City Police Department is seeking the public's assistance in identifying a male (pictured above) that robbed a Maverik convenience store at 710 East 2700 South on February 10th, 2018.
The suspect went into the Maverik, demanded money from the clerk. He then exited the store and fled in an unknown direction. If you have any information or can identify this person, please contact the SLCPD.
Suspect's Description:
White, adult male, likely in his 30's-40's
Wearing a gray and black hoodie and dark blue pants
The Police Department asks anyone who may know the identity and/or location of this suspect to call (801) 799-3000. Anonymous tips may be sent by text to 274637. Please start your text with TIPSLCPD, which routes it to the police department. Then include any relevant information. Reference: Case # 18-25351.
###