In Memoriam: Detective Owen T. Farley (1951)
May 23, 2018
Press Release: SLCPD To Kick Off Operation Chill Tomorrow At 7-Eleven®
June 12, 2018
Homicide Suspect, Shaun French, Booked in Salt Lake County Jail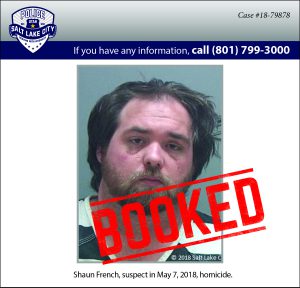 SALT LAKE CITY — Salt Lake City Police detectives booked Shaun French, 24, into the Salt Lake County Jail Wednesday night after he confessed to murder. Detectives travelled to Otero County, Colo., where the homicide suspect was released to their custody. The detectives then transported French back to Utah, where he was booked.
French, who had been identified as a homicide suspect, was booked on charges of aggravated murder and aggravated burglary, in addition to his outstanding warrants of unlawful sexual activity with a minor. The new charges stem from the homicide of 15-year-old Baleigh Bagshaw, that occurred on May 7 at her home located at 1628 W. 500 S. in Salt Lake.
This booking follows the over 250 staffing hours spent searching the Uinta County Landfill near Evanston, Wyoming, on May 15, that produced evidence related to the case. Further updates on the case will be handled by the Salt Lake County District Attorney's office.
###