In Memoriam: Officer Blaine L. Baxter (1935)
September 4, 2018
Press Release: SLCPD Chief Mike Brown Hosts Opioid Prevention Roundtable
September 17, 2018
SLCPD gives active attacker response training to Salt Lake City School District principals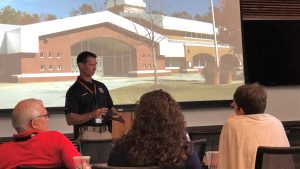 SALT LAKE CITY, UT — Sep. 13, 2018 — The Salt Lake City Police Department in conjunction with the Salt Lake City School District held a training yesterday focused on active attacker response. The core message of that training focuses on the ADD Model: Avoid, Deny, Defend.
"The partnerships and training that we participate in with our other community members helps ensure the safety for our children and the community as a whole," said Salt Lake City Police Chief Mike Brown. "We get the latest training from federal agencies and are excited to teach and train administrators from schools and local organizations. At the end of the day, it's about our children and their safety."
This model breaks down decision making and how critical that process is in preservation of life in an active attacker event. The model trains someone to avoid, or remove themselves and others from the area of the event, and deny access of that attacker to more possible victims. And, finally, if faced with no other option, to defend by taking the fight to the attacker.
These principles have come about from studying other events around the country and applying what worked in those situations. The three-hour training will give Salt Lake City School District principals and administrators a framework to take back to the schools and add to the measures and practices they currently have in place. By discussing these situations, with not just police, but schools and the community it will help us better be able to address, respond to, and reach the best possible outcomes in these type of situations.
Yesterday's training was part of a broader effort by the Salt Lake City School District to prepare school administrators, teachers, and staff for emergencies. Emergency drills (including lockdown drills and other procedures) are held monthly at SLCSD schools, and districtwide emergency protocols were updated this school year. New updates this year include security camera buzzers at every elementary and middle school in the district, as well as updated trainings for all school staff.
Dr. Lexi Cunningham, Superintendent, Salt Lake City School District added, "We are grateful to Chief Brown and the Salt Lake City Police Department for spending time training our principals this morning. We feel lucky to work with such a responsive and committed team of law enforcement officials. Continuing to build our relationship is a priority to make sure we do all we can to keep our students safe during an emergency."
Media Contacts:
SLCPD Public Relations Unit | slcpdpr@slcgov.com | 801-799-NEWS, 801-799-6397
SLCSD: Yándary Chatwin | yandary.chatwin@slcschools.org | 801-682-0816
###