Happening Saturday: SLC Gun Buy-Back Program
SALT LAKE CITY — The Salt Lake City Police Department, in cooperation with the Salt Lake City Corporation and the Salt Lake City Police Foundation will host a gun buy-back program on Saturday June 11, 2022 from 11 a.m. to 3 p.m. at the Public Safety Building, located at 475 South 300 East, Salt Lake City, Utah 84111.
This will be a first-come, first served opportunity with a limit of approximately 200 gift cards.
People will be able to turn in their firearms and receive a $50 gift card for firearms and $100 gift card for assault-style weapons, similar to AK-47, AR-15 and SKS model weapons. The SLCPD will maintain the ultimate determination on the eligible firearms for a $100 gift card.
No more than one gift card will be provided per person, no matter how many firearms are turned in.
No identification is needed and no questions about the firearms being turned in will be asked.
More information is available here: https://slcpd.com/gunbuyback/
In May 2022, the Salt Lake City Police Department seized 52 firearms.
Community members interested in taking part of this opportunity should access People's Way using either 400 South or 500 South onto Blair Street and then turn west onto People's Way. All vehicle traffic will exit north on 300 East.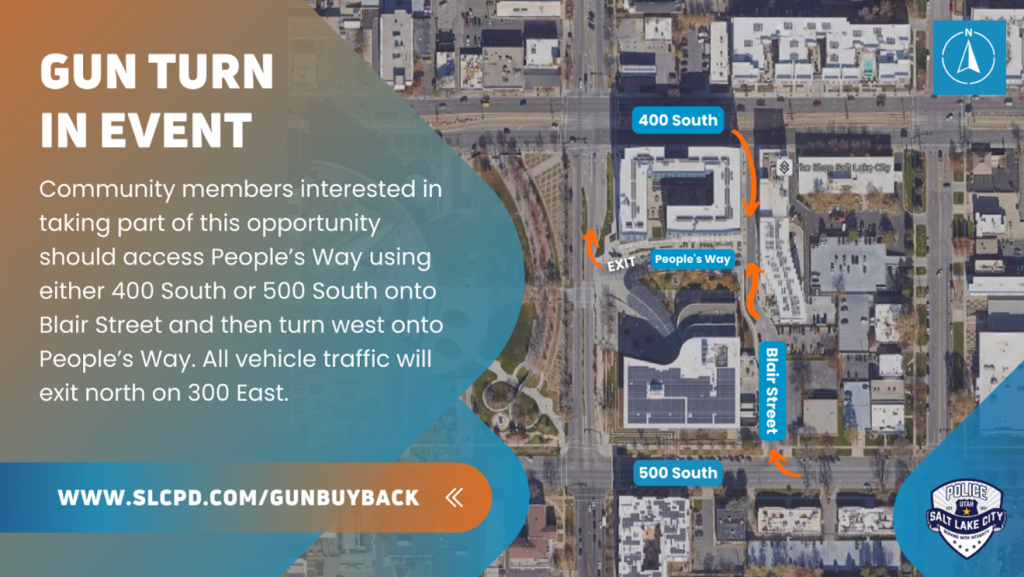 This event will run until 3 p.m., even if gift cards run out.
Anyone bringing a firearm to this event should do the following:
·         Have the firearm unloaded.
·         Have the firearm stored inside a safe storage container, such as a gunlock box and away from the driver or another occupant.
·         Communicate with officers on-scene. If you're not sure if the gun is loaded/unloaded. Tell officers that and tell them where the gun is.
·         Comply with officers. The process may take longer for some people if they have more than one firearm, ammunition or if the gun needs to be secured by officers.
·         Maintain patience and safety at all times. Never exit your vehicle with your gun unless you are specifically directed to do so by an officer.
Media interested in getting video of the event and an interview with Chief Mike Brown on Saturday should email PolicePRUnit@slcgov.com no later than 10 p.m. on June 10, 2022.
Media availability will not last the entire length of the event.
The Salt Lake City Police Department will not be able to coordinate interviews with people turning in any firearms.
If a community member is not able to attend this event but still wants to turn in their firearm without collecting a gift card should call 801-799-3000.
The gift cards available for this event were graciously supplied from the Salt Lake City Police Foundation.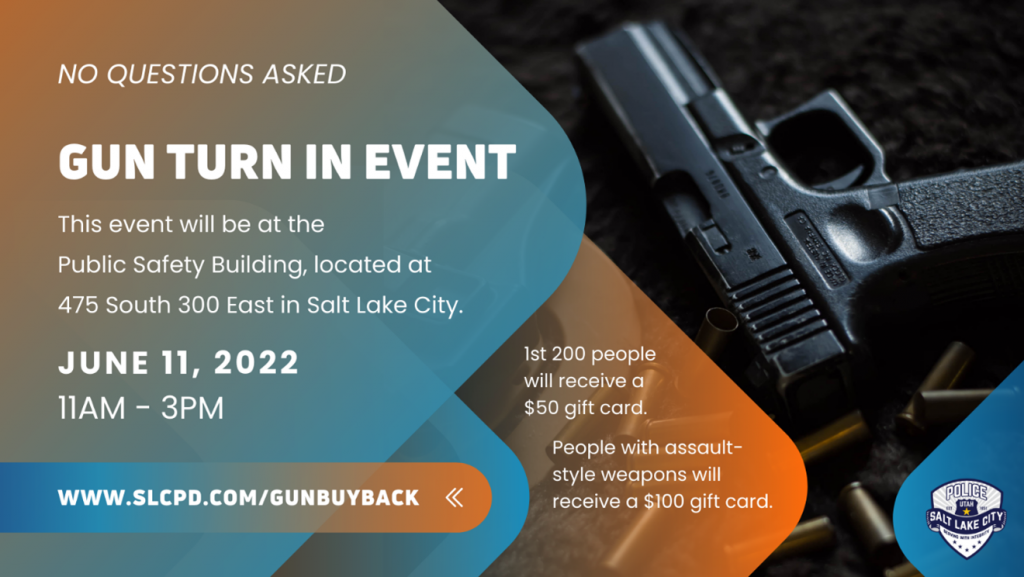 ###