'Chill with a Cop' Replaces 'Coffee with a Cop' Starting June 27th
June 13, 2013
Now Playing: Student Art Contest Winners at Broadway Centre Cinemas
June 18, 2013
Encourages donations to service providers through HOST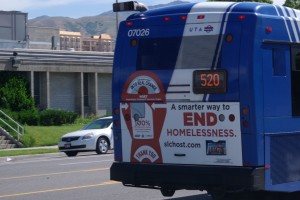 June 14, 2013 — A new public service campaign touting a "smarter way to end homelessness" by donating to the Homeless Outreach Service Team (HOST) is now traveling on UTA buses and TRAX trains in the downtown area.
"When you give to HOST, the money goes to partners who work day in, day out, to provide meaningful services to our homeless population," said Police Chief Chris Burbank. "Our hope is the public will understand that money given to the HOST program does much more to end homelessness than giving to individual panhandlers."
A nearly $50,000 federal grant from the Office of Community Oriented Policing Services with the Department of Justice helped fund the new "smarter way" education campaign, which will run on the back of eight UTA buses and inside 25 TRAX trains this year. The ads remind the public to deposit money in specially designated red parking meters and thereby "turn spare change into real change," language which marks HOST's 13 meters scattered throughout the downtown area.
"We know people want to give," said Sgt. Michelle Ross, HOST grant coordinator, "and they can help so many more people if they make smarter choices with their money. Give to HOST and, with one donation, you're supporting Fourth Street Clinic, The Road Home, Volunteers of America — professional organizations that provide food, housing, health care, job counseling, detox and rehab services, and so much more."
To give to HOST:
Deposit coins in HOST meters, a map of which is posted at slchost.com.
Donate to the Pamela J. Atkinson Foundation/HOST account at any Zions Bank location.
The Atkinson Foundation accepts and administers all donations from the public on behalf of the HOST program.
Contact: For more details about the HOST program, contact Sgt. Michelle Ross at (801) 330-5065.
###