New Public Education Campaign Touts 'Smarter Way' to Help End Homelessness
June 14, 2013
Burbank: True Immigration Reform is Not Measured by Heavy-Handed Police Tactics
June 19, 2013
Special art exhibit runs through end of June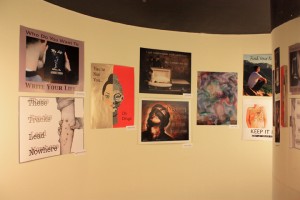 Student Art Contest winners on exhibit at Broadway Centre Cinemas art gallery.
June 18, 2013 — Winners of the 2013 Student Art Contest are now playing at Broadway Centre Cinemas, 111 E. Broadway.
The top eight entries — also featured in the theater's art gallery through the end of June — have been adapted for the big screen and are part of the in-house advertisements shown on-screen between movies.
"Young people have a lot to say about the negative consequences of drug and alcohol use," said Tori Baker, executive director of the SL Film Society, "and we think it's important to support emerging artists — especially ones who want to contribute to making the community a better, healthier place."
The Salt Lake City Police Department gratefully acknowledges Salt Lake Film Society and Broadway Centre Cinemas for their support of the annual Student Art Contest. 
Contact: Reporters seeking comment should contact the Public Information Officer at 801.799.NEWS (6397).
###