SLCPD, Health and Safety Partners to Clear Transient Camps in City Creek Canyon
June 23, 2013
CIU Trend Report: Car, Home Burglaries Up in Districts 6 and 7
June 26, 2013
Killed in the Line of Duty 100 Years Ago Today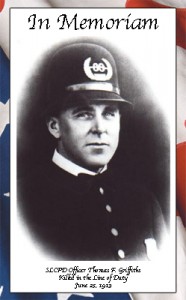 Posted: June 25, 2013 — The Salt Lake City Police Department today remembers the loss of one its own: Officer Thomas F. Griffiths, killed in the line of duty June 25, 1913, while pursuing a suspect.
The 39-year-old officer was summoned to a bar at approximately 250 West 200 South by the victim of a razor attack. Officer Griffiths arrested the suspect.
While being led to a nearby call box, the suspect broke away from the officer and fled. Griffiths pursued the suspect behind a building at 224 S. 200 W., where the suspect shot him three times.
The suspect managed to elude officers until the following day when his hiding place was reported by a citizen. The suspect, who was shot and wounded during the arrest, was convicted of first-degree murder and sentenced to prison.
When the Utah Supreme Court ordered a new trial, the suspect pleaded guilty to second-degree murder. He was sentenced to life in prison. However, in 1919, he escaped from a Spanish Fork Canyon work camp and was never recaptured.
Married and the father of six children, Officer Griffiths is buried in the Salt Lake City Cemetery.
Visit slcpd.com/newsroom/fallen  to learn more about SLCPD's Fallen Officers and the memorial plaque program. To contact the Salt Lake City Police History Project, send email to policehistory@slcgov.com or call (801) 799-3340.
###