SLCPD Seeks Suspect in Robbery of Zions Bank Branch
July 11, 2013
BOLO: SLCPD Seeks Identity of Fraud Suspect
July 18, 2013
Reporters welcome to ride along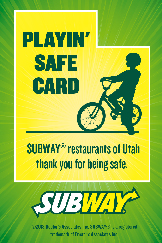 Posted: July 12, 2103 — Officers of the Salt Lake City Police Department and other law enforcement agencies will be on the lookout for kids "Playin' Safe" beginning next week.
If found to be playing safe by wearing helmets and other safety gear while on their bikes or skateboards or properly using crosswalks at intersections, kids will earn a SUBWAY loyalty card loaded with enough points for a 6" SUBWAY sandwich. Each "citation" can be redeemed at any Utah SUBWAY restaurant.
Reporters are invited to ride along with an officer between 10 a.m. and noon Monday to see the "Playin' Safe" campaign in action.
| | |
| --- | --- |
| WHO: | SLCPD and Subway |
| WHAT: | Reporters invited to ride along with an officer who will cite kids |
|   | for "Playin' Safe" |
| WHEN: | 10 a.m. to noon |
|   | Monday, July 15, 2013 |
| WHERE: | Meet at current Public Safety Building |
|   | 315 E. 200 S. |
|   | Salt Lake City, UT 84111 |
|   | Follow us on Twitter (@slcpd) to catch up with us, too |
| Contact: | Reporters seeking comment should contact the Public Information Officer at 801.799.NEWS (6397). |
###