Night Out Against Crime 2013
August 1, 2013
Updated: BOLO canceled for Jimmie Phillips
August 2, 2013
Press conference at 4 p.m. Tuesday, August 6th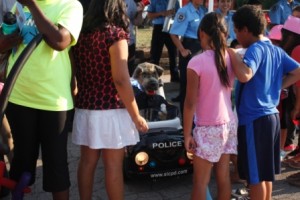 Buster works the crowd in Glendale, Night Out
Against Crime 2012. (Photo: SLCPD archive)
Posted: August 2, 2013 — Salt Lake City Police Chief Chris Burbank will be joined by Mayor Ralph Becker and City Councilman Carlton Christensen to start Night Out Against Crime Tuesday, August 6, at 4 p.m. with a public safety challenge.
Night Out is an annual event designed to increase public awareness of crime prevention, build bridges between law enforcement and the community, and send the message to criminals that neighborhoods are organized and fighting back against crime.
After the press conference, SLCPD officers will take the public safety challenge to Night Out events hosted by community councils in Westpointe (1920 W. Colonel Rd.), Glendale (1313 W. California Ave.), and East Liberty (1033 S. Lake St.).
| | |
| --- | --- |
| WHO: | Chris Burbank, Chief of Police |
|   | Ralph Becker, Mayor |
|   | Carlton Christensen, City Councilman, District 1 |
|   | Erin Youngberg, Westpointe Community Council Chair |
|   |   |
| WHAT: | Police, City Officials unveil crime reduction initiative at |
|   | Night Out Against Crime press conference |
|   |   |
| WHEN: | 4:00 p.m. |
|   | Tuesday, August 6, 2013 |
|   |   |
| WHERE: | Westpointe Park |
|   | 1920 W. Colonel Rd. (1100 N.) |
|   | Salt Lake City, UT 84116 |
|   |   |
| Contact: | Reporters seeking comment should contact the Public Information Officer at 801.799.NEWS (6397). |
###