Public Notice: Monthly Evidence Disposal
February 14, 2014
In Memoriam: Officers Brigham H. Honey Jr. & William N. Huntsman (1924)
February 16, 2014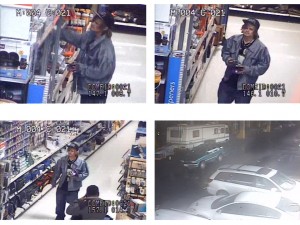 Surveillance images of robbery suspect from case #14-22472.
The suspect has been identified as Bradley Bourk (09/23/90) and was booked into jail on Monday, February 17, 2014.
SALT LAKE CITY — The Salt Lake City Police Department is seeking the public's help to identify the suspect in an aggravated robbery case.
At approximately 12:25 p.m. Monday, February 10, 2014, a man entered the Walmart at 350 W. Hope Ave. and attempted to leave the store with unpaid merchandise. While he paid for some of his items, loss prevention personnel observed him concealing other items on his person. Employees attempted to stop the suspect before he exited, but the man resisted and was combative. Eventually they were able to contain him in their office, at which point he produced a weapon and was allowed to leave the store.
The suspect is described as a white male adult, early 20s, 5 feet 7 inches tall, long blonde hair, jeans, silver or gray jacket, and black hat. He was last seen driving away from the store in a green GMC Jimmy with Utah plates, number unknown.
The Police Department asks anyone who may know the identity or location of the suspect to call (801) 799-3000. Anonymous tips may be sent by texting the keyword TIPSLCPD plus any relevant information to CRIMES 274637. Reference: case #14-22472.
Contact: Reporters seeking comment should contact the Public Information Officer at 801.799.NEWS (6397).
###