In Memoriam: Sgt. James R. Faraone
September 23, 2014
Studies Released on SLCPD's 'Trucks Need Space' Initiative
September 25, 2014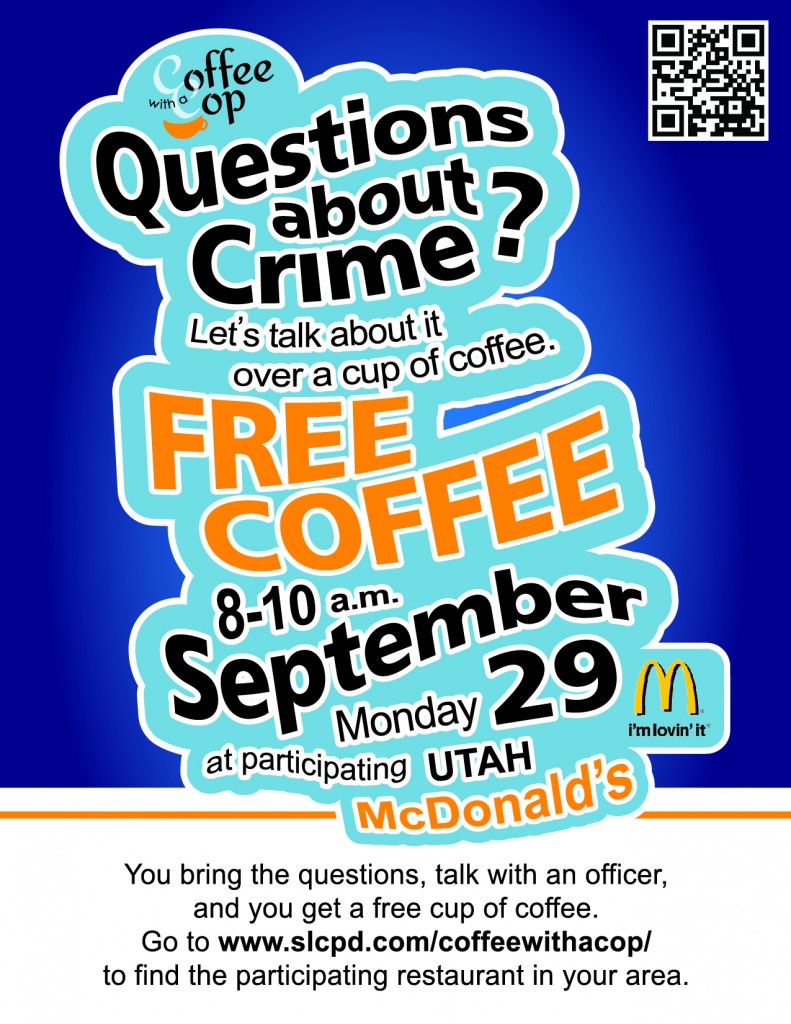 SALT LAKE CITY— As part of the growing "Coffee with a Cop" movement in Utah, officers from 11 law enforcement agencies will visit with patrons at locally-owned McDonald's restaurants from 8-10 a.m. Monday, September 29.
The restaurants will provide a free cup of coffee to customers Monday—which also happens to be National Coffee Day—creating a comfortable environment in which the public can ask questions, voice concerns and get to know the officers in their neighborhood. In addition to the Salt Lake City Police Department, participating police agencies run from Logan to Provo – click here for a map—including Unified, West Valley City, West Jordan, South Jordan, Murray, Orem, Provo, Woods Cross, Logan, Cache Co. Sheriff, and the Utah Division of Wildlife Resources.
Coffee with a Cop is a national initiative supported by the United States Department of Justice, Office of Community Oriented Policing Services. The program aims to advance the practice of community policing by improving relationships between police officers and community members one cup of coffee at a time.
Law enforcement expresses its thanks to the locally-owned McDonald's restaurants that made this month's Coffee with a Cop event possible.
WHAT:
Coffee with a Cop
 
WHEN:
8–10 a.m. Monday, September 29, 2014
 
 
WHERE:
11 McDonald's restaurants in Utah, including:
 

916 W. North Temple, Salt Lake City
3900 W. 5400 S., Kearns
1265 W. 9000 S. West Jordan
5600 W. 3497 S., West Valley City
4452 S. 300 W., Murray
11374 S. River Heights Dr., South Jordan
15 N. State Street, Orem
211 W. 1230 N., Provo
610 W. 2600 S., Woods Cross
25 S. 800 E., Hyrum
1035 S. Highway 89/91, Logan
Contact:
SLCPD Public Relations Unit
801.799.NEWS
801.799.6397
###