Law Enforcement, Local McDonald's Restaurants Team Up for National Coffee Day September 29th
September 25, 2014
Person Of Interest: Palu William Lose
September 25, 2014
Lead accident investigator available Friday afternoon to discuss studies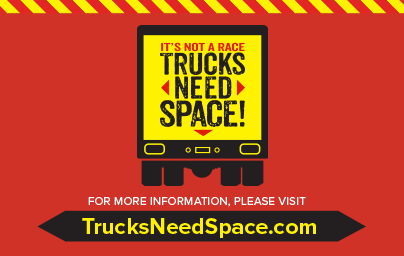 SALT LAKE CITY— In final reports on the Salt Lake City Police Department's "Trucks Need Space" initiative, evaluators found that enforcement led to a significant decrease in the overall number of negative interactions between motorists and large commercial vehicles while a public education campaign increased awareness of the issue among drivers.
According to the enforcement and evaluation report prepared by the University of Utah Pediatric Care Intermountain Injury Control Research Center:
"Salt Lake City police officers issued between 40 and 50 citations and warnings each day during the high visibility enforcement period. The increase in citations towards the end of the high visibility enforcement period may have contributed to the observed decrease in negative interactions and citations issued during the post-TACT period. While there were not enough crashes to detect any statistical trends that may exist in the data, we did find that males between the ages of 30 and 50 years continue to make up the majority of drivers involved in commercial and passenger vehicle crashes. Future efforts targeting this demographic are likely to have the greatest impact on reducing crashes."
Staples Marketing, the public awareness marketing partner for the "Trucks Need Space" campaign, surveyed drivers before and after the launch of television, radio and billboard ads to measure effectiveness. In a survey of 301 Salt Lake City drivers, 45% said they were aware of the campaign, while two-thirds of drivers said they believe aggressive driving is a problem that should be addressed.
Other noteworthy findings in the public awareness evaluation:
Compared to the pre-campaign survey, there was a statistically significant increase in the number of drivers who said they saw aggressive driving "often" when they were out driving. This would suggest either aggressive driving has increased or, more likely, awareness of aggressive driving has increased.
Compared to the pre-campaign survey, there was a statistically significant increase in the number of drivers who reported observing "following too closely," "speeding," and "failure to yield the right of way."
Both the enforcement/evaluation and public awareness campaigns were made possible by the following grants from the U.S. Department of Transportation, Federal Motor Carrier Safety Administration and its Ticketing Aggressive Cars and Trucks (TACT) program:
Salt Lake TACT Readiness Program
6/1/12 to 9/30/13
TACT funds: $133,420.50
SLCPD in-kind match: $44,414
FY2013 TACT Enforcement and Evaluation
3/1/13 to 9/30/14
TACT funds: $161,175.68
SLCPD in-kind match: $45,400
FY2013 TACT Public Education and Information
3/1/13 to 9/30/14
TACT funds: $306,860.53
Contact: Sgt. Tom Potter, lead accident investigator, will be available at 2 p.m. Friday in Community Room A of the Public Safety Building, 475 S. 300 E., to discuss the studies with interested reporters.
###