In Memoriam: Officer Charles Ford (1907)
December 14, 2014
New Information on Wanted Homicide Suspects
December 20, 2014
FOR IMMEDIATE RELEASE
 
Update:
 
Wells Fargo is offering up to a $10,000 reward for original information leading to the identification, apprehension and conviction of the person(s) involved in the robbery at the Wells Fargo bank Located at 778 South Main, Salt Lake City, Utah, on November 25, 2014, at 4:23 p.m.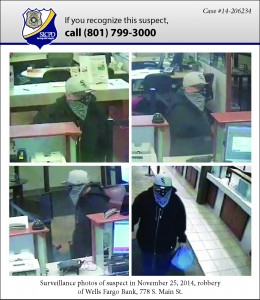 Help SLCPD Identify Bank Robber
Call (801) 799-3000 to share information
SALT LAKE CITY — The Salt Lake City Police Department seeks the public's help to identify the suspect that robbed a Wells Fargo Bank last week.
At approximately 4:25 p.m. Tuesday November 25, the suspect in the photos (above) entered the bank, brandished a weapon and threatened employees, ordering everyone to the floor. He demanded money, and the teller complied. He fled the bank in an unknown direction.
Suspect description:
Male Hispanic adult
5 feet 8 inches tall
Slim build
25-30 years of age
Black hoodie and gray sweatpants
Blue bandana
The Police Department asks anyone who may know the identity or location of this suspect to call (801) 799-3000. Anonymous tips may be sent by text to 274637. Please start your text with TIPSLCPD—which is a keyword that routes it to SLCPD—then include any relevant information. Reference: case # 14-206234.
###