SLCPD Seeking The Identity of Aggravated Assault Suspects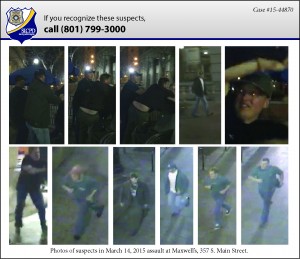 SALT LAKE CITY — The Salt Lake City Police Department seeks the public's help to identify and locate the male's (pictured above). They are suspected of assaulting a 29-year-old male, Saturday, March 14, 2015 around 2:04 a.m. The assault occurred at Maxwells, 357 S Main Street.
The male victim was working at the establishment at the time of the assault. He was attempting to escort one of the suspects from the bar when he was assaulted. It is believed that a friend of the suspect assaulted the victim shortly after and they both dragged him outside of the bar. Once the victim was outside several men began assaulting him until bystanders broke up the fight. The victim was treated at a local hospital for non-life threatening injuries.
The Police Department asks anyone who may know the identity or location of this suspect to call (801) 799-3000. Anonymous tips may be sent by text to 274637. Please start your text with  TIPSLCPD, which routes it to the police department. Then include any relevant information. Reference: case #15-44870.
###